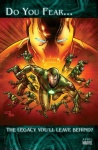 Marvel announced its Summer 2011 crossover event at a press conference at Midtown Comics on Tuesday. Fear Itself will premiere with a special extra-long prologue issue in March, followed by a seven issue miniseries launching in April.
Crossovers and special series will be at Secret Invasion scale, with miniseries and storylines in ongoing series tied to the main series.
The prologue (with a story at roughly 45 pages) will be written by Ed Brubaker with art by Scot Eaton.
The Fear Itself miniseries will be written by Matt Fraction, with art by Stuart Immonen.
Marvel editor-in-chief Joe Quesada promised that the series would be in a real world context in which "fear, above all else, seems to be the great motivator."
"It feels like there's this great shadow over all of us," Quesada said, "and reason and discourse have taken a back seat to fear."
The storyline will feature Marvel heroes vs. the god of fear.
Tom Brevoort, who's helming the event, promised that, "At whatever level you choose to buy in, hopefully we've built this in such a way that you'll get a fulfilling experience."