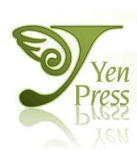 Yen Press has launched an iPad app, through which it is offering digital versions of American graphic novels. Titles available at launch include James Patterson titles such as Daniel X and Maximum Ride, Gossip Girl, Nightschool, and World of Quest.
Price points are below the print versions, with Daniel X, for example, which is priced at $11.99 in print, available at $8.99 in digital form.
Free previews and other features are also available through the app.

The reader is strictly full page view; it does not allow panel-by-panel navigation.