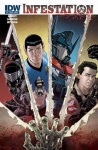 ICv2 caught up with Ted Adams, the CEO of IDW Publishing and sought his opinions and observations on a wide range of subjects. In Part 3 Adams discusses IDW's 2011 editorial plans including media tie-ins, crossovers, and new initiatives across the company's wide range of imprints. In
Part 1
of the interview, Adams talks about the current state of the market for comic books and graphic novels, the impact of Borders' financial problems on publishing, and the move by some publishers to roll back the cover price of periodical comics. In
Part 2
Adams discusses the burgeoning digital market, the impact of the iPad, Day & Date digital delivery, digital pricing, and the potential cannibalization of paper sales.
Can you tell us what you're most excited about in your 2011 editorial plans starting with your media tie-ins?
Infestation #1 came out January 26. Pre-orders on that were terrific. We really had solid support from the direct market, which were happy about. We did spend a fair amount promoting and marketing to direct market retailers and that seemed to pay off. We did a P.O.P. poster, but I think more importantly, we did a promo comic book distributed for free to the direct market. I think that marketing and promotion campaign has really paid off for us. Infestation is an event where some of our IDW-owned characters from the CVO (Covert Vampiric Operations) universe and our Zombies vs. Robots universe go into the universes of some of our big licensed properties; specifically we're talking about Transformers, Star Trek, Ghost Busters and G.I. Joe. We're really excited about that. That runs through April. Infestation #1, we've done preview copies and reviews of those are just starting to roll in. We've seen reviews on Ain't It Cool News, Robot 6 and Fangoria, and so far they've been all raves. Our hope is that people are really going to like this comic and that the sell through will be really healthy for the direct market retailers. That's certainly a big part of what we've got going on through first quarter.
In addition to that, we've got Godzilla launching in March. We're hoping to do pretty well with that. We've got Eric Powell writing it and Phil Hester doing the art--just a terrific creative team on board. We've got a unique direct market retail promotion that we're running where if retailers commit to buying 500 copies, we'll give them an exclusive cover where Godzilla stomps on their store. It's a fun opportunity for retailers to get a unique item that they can use for promotional purposes as well. We've had huge response to that. We've done some big kinds of things like that in the past trying to come up with ideas to get retailers really excited about what we're doing. The response to this "Godzilla Stomp Your Store" promotion has been way bigger than we ever expected. Dirk (Wood), who handles retailer relations with us, is getting an unbelievable amount of emails and phone calls from retailers who want to make that work. So we're really excited about that. Expectations are that Godzilla #1 could be one of our best-selling titles ever.
We've also got our new True Blood series which launches in February. The True Blood book that we put out last year exceeded our expectations our hope is that the new series will do just as well.
We're re-launching our
G.I. Joe
series in May. We're stopping the three or four series we have running now and we're putting out a campaign about the death of Cobra Commander. We're going to launch three books in May, we're going to have
G.I. Joe Cobra
, a
G.I. Joe
ongoing series, and a
G.I. Joe Snake Eyes
series that all come out in May with new #1 issues. We're trying to do good marketing and promotion on that as well.
We've also got a new Rocketeer series that launches in May. The creative team on that--that's edited by Scott Dunbier--and we've put together an impressive roster of creators for that.
I feel like our publishing plan for 2011 is probably as strong as it's ever been for us. We've got Transformers 3, which hits theaters in July, and our product will start coming out in mid-January, with the trades coming out mid-May. Just shaping up to be a really strong year for IDW.
Are you doing anything with transmedia stuff with Transformers movie in terms of story lines for the comics?
We are from the standpoint that we're doing prequels to Transformers 3. Like we did with for Star Trek Countdown and Transformers 2, our story lines will lead directly into Transformers 3, and our hope is we'll have some of those transmedia things that happen with that. What we saw with iTunes for Star Trek Countdown and Transformers 2 is that there a lot of people out there interested in reading those comics at that time on their iPhone.
What are you looking forward to in 2011 in your other categories?
With the Library of American Comics, we have Bloom County Vol. 4 coming out April. Dean's putting together a collection of Miss Fury, which is one of those books that's probably not on the tip of the tongue, but people will really enjoy once they see it come out.
On the Yoe Book side, one of the books that I'm really looking forward to as a publisher as well as a reader is Craig's going to do a collection of Carl Barks' Barney Bear comic books, which hasn't been in print in the U.S. in probably 30 years. When it was published before it was in black and white, sort of a mimeographed format. I'm really excited about that.
On the Desperado side, Joe's got an Art of Amanda Conner book coming out in May that I think will be a lot of fun. That's really shaping up to be pretty nice. We've got some fun and diverse things like we normally do.
The big book that I should mention which was originally going to come out last year is going to come out first quarter this year is the Alex Toth book that Dean's putting together for Library of American Comics. I think that has the potential to be the best thing that we've ever published. Dean put so much time into that book and has uncovered so much material that has never been seen before. I think that book's going to be something where if you're a comic book fan at all it's something you're going to want to have on your shelf.
One of the nice things about what Dean does is he really puts together a nice historical perspective around the material. If you look at the book he did on
Noel Sickles
, that book was not just a
Scorchy Smith
reprint, but was also a biography of Noel Sickles. I think the
Toth
book is going to be in large measure, very much like that.
Click here to go back to
Part 1
or
Part 2
.