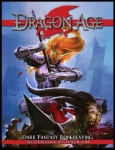 Green Ronin Publishing plans to release the second part of the
Dragon Age RPG
in May. This will be the second boxed set for the game (for the first set releases, see "
Dragon Age
").
Dragon Age: Set 2 starts where Set 1 finished, by providing all of the rules needed to develop characters through level 10. It includes rules for Grey Wardens, new role-playing and exploration stunts, 40 new spells, and expanded information about the game world.
The boxed set will include two full-color 80 page books: a "Player's Guide" and a "Game Master's Guide." Two heavy-duty reference cards and a poster map of the game world are also included.
Dragon Age: Set 2 was written by Chris Pramas, Jeff Tidball, Steve Kenson, and T.S. Luikart. It will have a suggested retail price of $39.95.
FUNimation is planning a
Dragon Age
OAV for release this year (see "
Dragon Age OAV Planned
"). The property was supported by a new videogame release in November 2009, and an IDW comic in 2010.