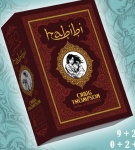 Habibi, Craig Thompson's long-awaited follow-up to Blankets, will be released by Pantheon on September 20th, 2011. The mammoth 672-page Habibi will be published as a clothbound, gold-stamped hardcover with a cover price of $29.95. Like Blankets, Habibi will be published in black-and-white.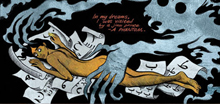 "Habibi" is an Arabic word that means "my beloved." Thompson's latest work, which he began after a trip to Morocco, is heavily influenced by Arabic calligraphy and Islamic mythology. Another major influence appears to be the paintings of Paul Gauguin. One panel in particular appears to be a direct homage to Gauguin's
Manao Tupapau.
Speaking of the role of Islam in his new work, Thompson said: "I'm playing with Islam in the same way that I was playing with Christianity in
Blankets
."
Thompson's
Blankets
, which was published in 2003 by Top Shelf, won the 2004 Harvey, Eisner, and Ignatz awards for "Best Graphic Novel." It has remained a consistent seller and a fixture on ICv2's year-end "Top Ten Fiction & Reality Lists" (see the most recent, "
Top Ten Fiction & Reality—2010
").
Blanket's
sensitive coming-of-age saga has made it a focal point of several censorship disputes, most notably, a banning in the Marshall, Missouri Public Library that was eventually reversed (see "
Missouri Library Reinstates Graphic Novels
").