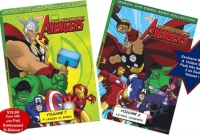 Marvel has announced the April 26th release of the first two volumes collecting the Avengers: Earth's Mightiest Heroes animated series, which debuted last fall on the Disney XD cable channel. Volume 1: A Legion is Born contains episodes 1-7, while Volume 2: Living Legends includes episodes 8-13. Each volume will have an MSRP of $19.99 and will come with a foil-embossed "O-Sleeve" over a conventional DVD case.
Note that Thor is featured prominently on the packaging of both volumes, which is not surprising since these volumes hit retail a scant ten days before Marvel Studios' live-action Thor movie debuts on May 6th.
The superhero roster for the cartoon series, at least initially, reflected the makeup of the original Avengers with a cast that included Ant-Man, Hulk, Iron Man, Thor and Wasp as well as Captain America, who was revived by the Avengers.