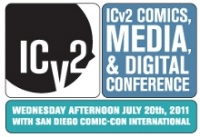 An ICv2 Release. ICv2 has announced that it will host the ICv2 Comics, Media, and Digital Conference in conjunction with San Diego Comic-Con International this July. "This year we're going to take a look at the two most powerful trends impacting comics," ICv2 CEO Milton Griepp said of the Conference. "The growing transmedia uses of comics and their digital expression are the forces transforming comics into something previously unseen."
The ICv2 Comics, Media, and Digital Conference, held Wednesday afternoon July 20th (just before Comic-Con Preview Night), is a ticketed half-day event bringing together producers, agents, managers, publishers, artists and writers, digital executives, retailers, librarians, and others interested in the future of comics in all their forms.
Registration for this half day event (1 p.m. to 4:30) will open soon.