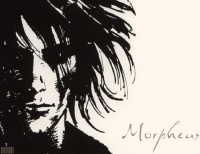 Earlier this week Supernatural creator Eric Kripke, who was handpicked by Warner Bros. to shepherd the long-gestating
Sandman
property to the small screen told reporters that the series was "not in the works, at least for this season" (see "
Sandman TV Series Torpedoed
"). Kripke didn't explain why the series was a no-go, attributing it to "lots of varying reasons," a vague declaration that didn't make fans too happy about the prospects for the popular property in the TV medium.
Then DC's Chief Creative Officer Geoff Johns jumped on
Twitter
with a major contradiction: "Correction to the world: The
Sandman
is awake. Psyched to be working with @neilhimself on developing one of the greatest series ever!" (@neilhimself is Gaiman's Twitter name).
Then Johns followed up with a second tweet: "Sandman in any form—comics to live action—doesn't work without @neilhimself."
There is no confirmation of Johns report, but he should be in a position to know, and there is no indication that anyone hijacked his Twitter handle.