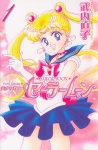 Kodansha USA has announced the return of Naoko Takeuchi's Sailor Moon manga series, which has been out of print in North America for six years. Brand new deluxe editions of the classic "magical girl" manga will be released in the U.S. starting in September along with Takeuchi's 2-volume prequel series Codename: Sailor V, which has never been published in the U.S. Sailor Moon, which benefited from syndicated TV exposure of its anime adaptation, was the first shojo manga hit in the North American market.
The new American Sailor Moon edition will follow the format of the 2003 Japanese re-release of the series in which the original 18 volumes were condensed into 12 volumes covering the main storyline plus 2 volumes collecting Sailor Moon short stories. Each volume will have gorgeous new cover art, retouched interior art and dialogue plus extensive bonus material from Takeuchi along with translations notes for the English edition. Kodansha will publish a new volume of the Sailor Moon series every other month starting in September.
Prequel series
Codename: Sailor 5
, the first of Takeuchi's "magical girl" manga series, will also debut in September.