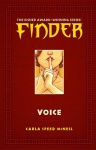 Finder: Voice TP

Publisher: Dark Horse Comics
Release Date: March 2011
Price: $19.99
Creator: Carla Speed McNeil
Format: 206 pgs.; Black & White; 6" x 9"; Trade Paperback
ISBN: 978-1-5958-2651-0
Age Rating: 16 and up
ICv2 Rating: 5 Stars Out of 5
Rachel Grosvenor is competing in a competition where winners gain membership in the powerful Llaverac clan. She has no love for the Llaveracs but the status gained from being a member will mean lifelong security for both her and her entire family. But when her all-important clan ring is stolen she searches the sketchier areas of her domed city-state of Anvard looking for the only person she believes can locate it; Jaeger, her mother mother's former love and a Finder, a combination detective/sin eater.
In the latest volume of
Finder
we're again reacquainted with members of the Grosvenor family, particularly the oldest daughter. As she's about to enter adulthood she continues to navigate an uneasy path between the customs of the different clans her mother and father belonged to. She also remains haunted by the shadow of her troubled childhood represented by Jaeger, who's live as a Finder allows him to live free of societal constraints.
It's been entirely too long since we were able to experience Carl Speed McNeil's unique brand of sociological science fiction with its emphasis on character, class and culture. Once again McNeil immerses you in her meticulously detailed world and you're immediately caught up in a beautifully drawn and deftly written story. Enjoying
Finder: Voice
requires doesn't require you to have any prior knowledge of the series, however there are several pages of footnotes in the back that will prove helpful for both newcomers and long-time readers.
--
Steve Bennett: Writer and retail services consultant.