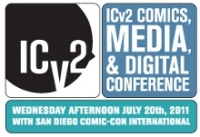 An ICv2 Release. The ICv2 Comics, Media, and Digital Conference will be held in association with San Diego Comic-Con International on Wednesday afternoon, July 20th at the San Diego Marriott Hotel and Marina, next to the San Diego Convention Center, prior to Comic-Con Preview Night. Plan to join us!
The Conference
Digital comics and the growing transmedia uses of comics in film, TV, and videogames are transforming the industry into something very different from what has gone before. To navigate this rapidly changing environment, ICv2 is bringing together the best minds in all three parts of the industry—comics, media, and digital—to discuss where the comics medium is, where it's going, and how to take advantage of the tremendous opportunities presented by this period of rapid change.
Time and Place
The ICv2 Comics, Media, and Digital Conference will take place at the Marriott Hotel and Marina, next to the San Diego Convention Center, from 1 to 4:45 p.m. on Wednesday afternoon, July 20th.
Who Should Attend
-
Comic publishers, traditional and digital
-
Producers, agents, and managers
-
Librarians and educators
Conference Sessions
Sessions at the ICv2 Comics, Media, and Digital Conference will include (speakers continue to be added--check back frequently!):
The ICv2 White Paper
This ICv2 White Paper will present a comprehensive look at the comics market and the trends in comics, their media uses, and digital distribution.
Presented by Milton Griepp, ICv2.
Selling Comics in Hollywood—State of the Market
Panelists including Hollywood agents and managers discuss the market for comic properties in film, TV, and videogames—what types of projects are getting made, and why.
-- Scott Agostoni, Agent
-- Nick Harris, Co-head of Media Rights, International Creative Management
-- Rick Jacobs, Producer and Manager, Circle of Confusion
Moderated by Anne Thompson, Veteran Journalist and Commentator, Indiewire
Digital Comics and Transmedia Properties
Panelists from the comic and digital worlds discuss how awareness from other media is creating unique opportunities to sell digital comics to new customers, and how digital comics are being used to enhance interest and revenues in other media.
-- Ted Adams, CEO, IDW Publishing
-- Ed Lang, CEO, Panelfly
-- Alvin Lu, Senior Vice President and General Manager, Viz Media
-- Michael Murphey, CEO, iVerse
-- Mike Richardson, CEO, Dark Horse Entertainment
-- John Rood, EVP, DC Entertainment at Warner Bros.
Moderated by Heidi MacDonald, comic editor and commentator from The Beat.
Comics, Paper and Digital, at Comic-Con 2013

Our panelists look ahead two years to answer key questions about the future of comics. At Comic-Con 2013, what is a comic? How do consumers buy them? How are comics tied to other media? And who were the winners and losers in the previous 24 months?
-- Joe Field, President, ComicsPro; and CEO, Flying Colors
-- Peter Levin, CEO, GeekChicDaily
-- Bill Schanes, Vice President, Diamond Comic Distributors
-- David Steinberger, CEO, comiXology
-- Mark Waid, Author and Editor
-- Bob Wayne, Senior Vice President, DC Entertainment
Moderated by Calvin Reid, Senior News Editor of Publishers Weekly
Speakers:

For more information on the speakers and panelists at the ICv2 Comics, Media, and Digital Conference,
click here
.
Register Today!
For only $99 to $199, depending on your category, you can take part in this important gathering of the industry, held in association with San Diego Comic-Con International.
Creator, Retailer, Librarian, or Educator = $99
Publisher, Producer, Agent, Manager, Marketer, Licensing, Distributor, all others = $199

Press
The ICv2 Comics, Media, and Digital Conference will honor Comic-Con press credentials. Please e-mail
Mgriepp@ICv2.com
to let us know you're coming, or with any questions.
For More Information
Click the link below to sign up for Conference updates via e-mail.

To contact us to inquire about speaking or sponsorship opportunities, e-mail:
Mgriepp@ICv2.com
.
ICv2 is the industry source on the business of geek culture, including comics and graphic novels, manga and anime, movie/TV products, and hobby games daily on its Website, ICv2.com, and in its magazine,
Internal Correspondence
. For the people on the front lines of the geek culture business, staying ahead of the trends isn't something that can be left to chance-it's a basic necessity for being successful. That's why ICv2 is the #1 source of news and information for the buyers, gatekeepers, and tastemakers on the front lines. ICv2 is where trend-watching has become a science.

Conference Sponsor: Heidi MacDonald's
The Beat

The Beat
, now in its seventh year, is dedicated to providing the timeliest and most pertinent news and information about comics, the people who make them, the readers who love them and the world that shapes them. Heidi MacDonald is an Eisner Award-nominated writer and editor and a veteran entertainment industry journalist. As an editor she has worked for Disney, Warner Bros., and Fox, among many others.



Conference Sponsor: Publisher's Weekly




Publishers Weekly

is the leading publication serving all segments involved in the creation, production, marketing and sale of the written word in book, audio, video and electronic formats. It is the prime source of comprehensive news and provides unique industry data including an annotated bestseller list, hot deals and retail news. A 134-year old magazine--with over 100,000 dedicated readers--

PW

is recognized as the leading publication for international and U.S. book publishing needs.

PW's

Website,
PublishersWeekly.com
is packed with great information from the hottest industry news to book reviews to the popular e-newsletters and much more.



Conference Sponsor: Media & Entertainment Technologies


M&E Tech is a leading editorial based publication serving the technology supply and development chain for capture, creation, distribution and consumption of electronic media and entertainment products. The publication was founded in 2010 by industry technology and editor leaders with over 75 years of combined engineering experience and over 50 years of combined editorial experience. The publication holds a unique technical support relationship with many industrial groups defining standards and directions for the entertainment and technology infrastructure industries. The publication is updated on-line several times a week with a summary headline newsletter that is sent on a monthly basis to over 50,000 readers in the gaming, display, IT, semiconductor, broadcast, component, television, music and electronics communities.



Conference Sponsor:
Comic Book Resources
Comic Book Resources is the premier lifestyle and entertainment resource for comic entertainment news, appealing to collectors, publishers, retailers and film makers, covering comics, film, television, video games and more. CBR won the 2009 Eisner Award in the category of Best Comics-Related Periodical/Journalism and has been nominated again in 2011.



Thanks to San Diego Comic-Con
Our thanks to San Diego Comic-Con for supporting this event!