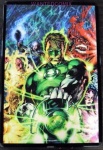 DC Comics has advised retailers to unplug the Green Lantern Animated Light Up Display (Diamond Code: OCT100366) immediately. In a message to retailers on the CBIA Forum that was relayed to ICv2 by a retailer, DC's Bob Wayne cited reports of electrical problems with the display and urged retailers to unplug them straight away. Wayne also noted that DC will notify retailers sometime in the next few days about the steps the company will take to rectify the situation concerning the colorful display unit that was designed by Jim Lee and Scott Williams and which cost retailers $150.
There has been at least one fire associated with the display, though several retailers told ICv2 that that they noticed odors like "burning plastic" emanating from the signs. The fire occurred on Saturday at Rick's Comic City in Nashville, Tennessee. Larry New, who was working at Rick's on Saturday, told ICv2 that the sign was giving off smoke. The fire fortunately occurred during business hours and was caught quickly and extinguished by smothering it with a towel. The fire department was not called. The display was in the store's front window, but New told ICv2 that because there is a 10-foot overhang over the window, the display was not in direct sunlight.
The Green Lantern property has been building momentum steadily over the past few years and DC has aided the cause with a number of display fixtures including cool Green Lantern neon signs, which unfortunately suffered a fairly high incidence of damage in shipping, though retailers contacted by ICv2 all say that the damaged signs have been replaced and that the replacements are working well.