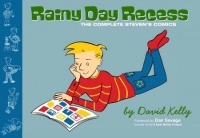 Rainy Day Recess: The Complete Steven's Comics TP
Publisher: Northwest Press
Release Date: March 2011
Price: $19.99
Creator: David Kelly
Format: 120 pgs.; B&W; Trade Paperback
ISBN: 978-0-9845-9402-3
Age Rating: 13+
ICv2 Rating: 2.5 Stars out of 5
Kelly ran a strip called Steven's Comics in gay and alternative newspapers in the mid to late 90s. His main character was a boy named Steven growing up in the seventies, struggling with his tween feelings for a male friend and his desires for what the world label's "girl things"—dolls and dress and the like. But it is when Kelly turns his focus on Steven's splintering family that his tale takes on an even deeper poignancy. The characters surrounding Steven are a realistic mix of well-meaning people, bullies, confidants, losers, friends, and more, giving Steven's world the feel of a biography. Teen readers might be slightly thrown off by the seventies setting and the childish narrator, but adults will appreciate this look back at a childhood that isn't all sunshine and flowers.
The collection meanders a bit, but there are plenty of extras—art, details about the stories, etc.—all tied together by Kelly's cartoon style, which hints at Lynda Barry, but reads like a more sober Diary of a Wimpy Kid. Though Kelly's Xeric grant winning work was originally aimed at gay readers, his story is universal enough to appeal to a wider audience, all of whom will be left wanting to see what he's working on these days.
--Snow Wildsmith: Writer and former teen librarian and ALA/YALSA committee member.