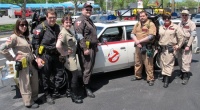 Matthia McCracken of The Comic Book Shop in Wilmington, Delaware writes in and shares this Free Comic Book Day report.
Last Saturday The Comic Book Shop of Wilmington, Delaware hosted local charity groups* as well as readers of all ages and backgrounds during Free Comic Book Day. Avid fans and casual shoppers were treated to a bountiful array of quality comics as thanks for shopping at the small business. Many attendees dressed as their favorite characters, sharing their excitement with everyone around.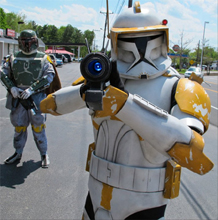 This year's sales were just about double last year's, and owners Patrick and Sarah Titus are amazed at the support from the community. This was the second FCBD for the young couple, having taken ownership of the shop just one month prior to last year's big event. "We're grateful for people that continue to seek out wholesome, personal engagement, and we accept the responsibility to serve and educate." says Sarah.
* The 501st Garrison Carida Star Wars group accepts donations for local children's hospitals and the Philadelphia Ghostbusters collects funds for Great Strides for Cystic Fibrosis.
The opinions expressed in this article are solely those of the writer, and do not necessarily reflect the views of the editorial staff of ICv2.com.
Retailers--Share your Free Comic Book Day and/or Magic: The Gathering--New Phyrexia pre-release stories (and include a photo or two of your event) to: comments@icv2.com