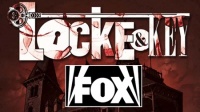 With the release today of the Fox network schedule for the 2011-2012 season reports that the network had decided against picking up the series based on IDW's Locke & Key were confirmed. Hopes that the show might be picked up as a mid-season, post NFL replacement were also dashed.
Digital Spy
quotes Fox's entertainment president Kevin Reilly explaining diplomatically: "We made a number of pilots and then we look at them and make choices based on our schedule. A lot of the time decisions are not made in the abstract about a specific show and its qualities."
Much like NBC's Bob Greenblatt explaining his decision to pass on the revamped Wonder Woman, Reilly said that he actually enjoyed the Locke & Key pilot: "It's actually a cool pilot with good talent involved…it really came down to, we like the shows we picked and they fit better."
With the long-running Smallville ending this spring it appears that for the first time in over a decade there will be no comic book-based live-action series on network television during the 2011-2012 season.