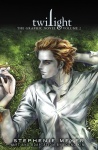 Yen Press, the graphic novel imprint of the Hachette Book Group, has announced the October 11th release of the second volume in the graphic novel adaptation of Stephenie Meyer's Twilight. Twilight: The Graphic Novel Vol. 2 will be released as an e-book and in hardcover for $19.99 with a first printing of 350,000 copies.
Twilight: The Graphic Novel Vol. 2 will contain selected text from Meyer's original novel with illustrations by the Korean artist Young Kim. Young Kim's style, which includes both Asian and Western comic techniques, is showcased to great advantage in this black-and-white graphic novel with color interspersed throughout.
Meyer has closely supervised the creation of the Twilight graphic novels, and is pleased with the results, saying: "Knowing how beautifully Young Kim rendered the Twilight universe in the first volume, I couldn't wait for this next one. Her illustrations of characters and settings gorgeously capture the world and are very close to what I saw in my mind's eye while writing Twilight."
Nearly 116 million volumes of Meyer's
Twilight
trilogy have been sold worldwide. The first part of the two-part film adaptation of the final book in Meyer's trilogy,
Breaking Dawn,
opens on November 18th, which should help boost sales of the second Twilight graphic novel through the rest of Q4 and beyond. The print run for the second
Twilight
graphic novel is identical to that announced for the first book in the series, which sold over 66,000 copies in its first week of release (see "
Twilight GN Sets 1st Week Record
").