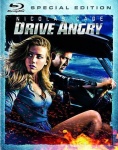 There's quite a range of home entertainment releases this week led by the modern "grindhouse" classic Drive Angry, the Southern Gothic TV series True Blood, plus a couple of classics debuting on Blu-ray, and five great British war films now available in the U.S. on DVD that military history buffs and wargamers are sure to love.
Theatrical Releases
The top theatrical release this week is Drive Angry (Summit Entertainment, "R," $26.99, BD $30.49, 3-D BD $34.99), a modern grindhouse film that stars an unusually restrained Nicholas Cage (bad hairpiece and all), William Fichtner who hams it up devilishly as a character known simply as "the Accountant," and the sexy Amber Heard (a potential Red Sonja). While it may not live up to its title, Drive Angry manages nonetheless to combine copious amounts of profanity, nudity, gore, and black comedy into a thoroughly disreputable mix that fans of raunchy B-movies should love in spite of a plot with holes big enough to drive the film's fleet of 1970s muscle cars through.
Those who like their indie shockers mixed with a few more artistic pretensions, might want to check Kaboom (MPI, Not Rated, $24.98) Greg Araki's genre (and gender) bending dark comedy/apocalyptic horror film about an impossibly gorgeous group of college freshmen led by Thomas Dekker as a somewhat sexually confused Lothario who lusts after his straight surfer roommate. The fast-moving surface of this 86-minute cinematic kaleidoscope shines, but the final revelation of its underlying premise of a killer cult in the idyllic California seaside college town, stinks like a herring in the moonlight. Enjoy the ride, just don't expect too much.
Javier Bardem received an Oscar nomination for his role in Biutiful (Roadside Attractions, "R," $27.98, BD $39.99) as a small time crook trapped between family and criminal obligations in this searing tale of the Barcelona underworld directed by Alejandro Gonzalez Inarritu (Babel). Biutiful is hard to watch but compelling largely due to Bardem's excellent portrayal of a man at the end of his tether.
TV on DVD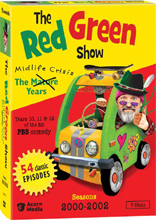 The top TV on DVD release this week
True Blood: The Complete Third Season
(HBO, 720 min., $59.99, BD $79.98) includes the most recent episodes of the HBO series, which welcomed even more monsters to Bon Temps, Louisiana during its third season. This hip show continues to exploit the current vogue for empathetic portrayals of what previous generations saw simply as "monsters" in its portrait of a South overrun by all types of ghoulish creatures.
Also out this week is Rookie Blue: The Complete First Season (E1 Entertainment, 546 min., $44.98, BD $49.98), the Canadian-produced series starring Missy Peregrym and Gregory Smith that combines police procedural action with Grey's Anatomy-like soap opera-among-the-professional-set antics.
Continuing series out this week include Psych: The Complete Fifth Season (Universal, $59.98), the USA network series about a fake psychic detective (James Roday) and his long-suffering buddy (Dule Hill), and the popular dog-training reality show The Dog Whisperer: The Complete Season 5 (Gaiam, 735 min., $24.99).
Low priced "samplers," rather than "complete seasons" are becoming increasingly popular as sales in the "TV on DVD" category wane. This week there are several to consider including The Abbott and Costello Show: Hit the Road (E1 Entertainment, 156 min., $9.98), which includes six of the best episodes from the comedy team's 1950s TV series, and Ellery Queen: The Disappearing Dagger (E1 Entertainment, 196 min., $9.98), which includes four episodes of the NBC mystery series that stars Jim Hutton,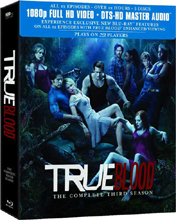 For those who can't get enough rustic, backwoods Canadian humor, there is the excellent
The Red Green Show: The Mid-Life Crisis Years
(Acorn Media, 1260 min., $79.99), a giant 9-disc, 54-episode collection that contains seasons ten, eleven, and twelve of the popular north-of-the-border comedy series.
Anime
It's a very slim week for anime releases led by Guin Saga Collection 2 (Sentai Filmworks, "13+," 325 min., $59.98), which includes the final 13 episodes of the Satelight-produced anime series based on Kaoru Kurimoto's heroic fantasy light novel and manga series (published here by Vertical). Also due out is Mazinkaiser SKL (Media Blasters, "13+," $19.98) a 3-part OVA series produced by Actas that was released in Japan earlier this year. Mecha fans should enjoy this series, which is based on Go Nagia's Mazinkaiser, which is, in turn, based on Nagai's original 1972 Mazinger mecha saga.
But perhaps the most interesting of this week's anime releases is Durarara Part 3 (Aniplex USA, "13+," 225 min., $49.98), which includes the final third of the 24-episode series produced by Brain Base and based on the novels of Ryohogo Narita, the creator of Baccano! Hardcore anime fans will love this action-packed supernatural comedy that is set in Ikeubkuro.
Classics on Blu-ray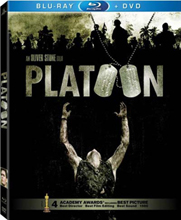 Platoon
(MGM, "R," $29.99) is Oliver Stone's best film and certainly the best "grunt's eye" view of the controversial American role in the conflict in Vietnam. This 1986 Academy Award winner is now available in what is a solid 1080p Blu-ray transfer that brings a lot more of the textures and detail of the original film to screen, making it a substantial improvement over the previous conventional DVD release. Stone's reputation as polemicist tends to obscure the fact that he was able in
Platoon
to coax superb performances from Charlie Sheen (arguably his best work on film), Willem Dafoe, and Tom Berenger.
Platoon
presents a microcosm of the War in Vietnam that manages to reflect almost all of that conflict's complexities and shades of gray. Does
Platoon
represent every G.I. and Marine's Vietnam experience? Of course not, but it does reflect Stone's and benefits from his burning need to recreate his view of the conflict. The
Platoon
Blu-ray comes with a full complement of extras that help put the movie in its historical perspective, especially the 3-part "Flashback to Platoon" documentary.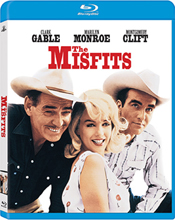 The Misfits
(MGM, $19.99) is a 1961 film directed by John Huston that proved to be the final movie for two Hollywood icons, Clark Gable and Marilyn Monroe. The film was written by playwright Arthur Miller, who was Monroe's husband at the time and whose poetic dialogue makes up in emotive power what it lacks in realism. Monroe gives one of her best performances as a depressed, mixed-up divorcee, and the entire ensemble cast, which also includes Eli Wallach, Thelma Ritter, and Montgomery Clift, is excellent. There is a sad elegiac tone to the film, which like numerous contemporary "westerns" of that era (Kirk Douglas' Lonely Are the Brave, for example), is basically a lament for the disappearing cowboy culture, personified here by Gable's Gay Langland, who rounds up wild horses for sale to slaughterhouses that process them into dog food. Of all the recent MGM transfers of black-and-white films to Blu-ray,
The Misfits
is the best yet. The underrated Russell Metty's realistic photographic style comes across spectacularly in the new 1080p transfer. This is the best looking version of
The Misfits
produced so far, and probably the best we are ever going to see. It is easy to see why
The Misfits
was not a hit when it was released in the 1960s, but it is also clear why this movie is now regarded as a classic, a work that everyone who enjoys the films of the 50s and 60s or the movies of Monroe and Gable should watch, especially in this excellent Blu-ray transfer.
New to DVD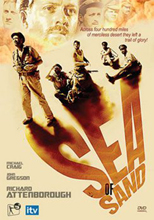 Just in time for Memorial Day VCI has released a handful of excellent British World War II films. All are "A" productions from the best British studios such as Gainsborough, J. Arthur Rank, and Gaumont, with top U.K. stars such as Michael Redgrave, John Mills, Alec Guiness, Richard Attenborough, etc., and excellent production values. Even better these are all high quality DVD transfers that make the movies look great. Anthony Asquith's
The Way to the Stars
(VCI, $19.99) from 1945 is perhaps the best of the bunch. Written by playwright Terrence Rattigan, the film takes place at an RAF airfield in 1940, 1942, and 1945. The dangerous bombing runs over Germany take their toll on the film's characters, but Peter Penrose (John Mills), who is an under-trained novice in the1940 segment, survives and unites all three segments and serves as a ground controller when the U.S. Army Air Force takes over the base in the later segments.
Equally interesting is Above Us the Waves (VCI, $19.99), a 1955 film about the British midget submarine attacks on the German battleship the Tirpitz, which was anchored deep in a Norwegian fjord some 60 kilometers from the open ocean. This true story adventure is filled with suspense as the daring undersea raiders mount a second attack on the Tirpitz after their first foray fails.
Anthony Asquith's We Dive at Dawn (VCI, $19.99) is another nail-biting submarine epic, though this time it's a saga of full size subs. We Dive at Dawn stars John Mills as the Captain of the HMS Sea Tiger. Produced in 1943, We Dive at Dawn features excellent exterior shots showing the Sea Tiger and sub-tenders in their Scottish bases plus realistic interiors filmed at the Gaumont studios in London.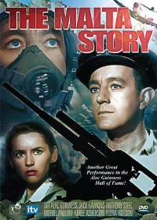 Malta Story
(VCI, $19.99), which stars Alec Guiness in a stirring story of the defense of Malta, was made in 1953 and benefits from location shooting, some great archival footage of the actual combat, and the use of real vintage World War II aircraft (wargamers will love this picture), which were available on Malta at that time, but were largely unavailable anywhere else. It was from Malta, which took a tremendous pounding from the Nazis, but remained unconquered, that the U.K. forces were able to interdict Rommel supply lines and the destruction of a major convoy is at the heart of this powerful film's climax.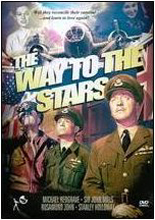 Another film that benefits greatly from location shooting is
Sea
of Sand
(VCI, $19.99), which was directed by Guy Green, and shot in the Libyan desert in 1958. This saga of the Long Range Desert Group, used by the Brits to attack Rommel's supply lines, is one of the best films of desert warfare ever made.