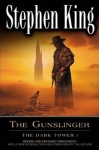 After initially approving it and then pushing back its start date to control costs,Universal Pictures has decided against proceeding on an ambitious adaptation of Stephen King's
The Dark Tower
, which would have encompassed three movies and two bridging TV series (see "
Uni's Ambitious Plans for The Dark Tower
").
The project would have been the most daring that Hollywood has attempted since New Line allowed Peter Jackson to shoot all three
Lord of the Rings
movies back-to-back-to-back—and it is somewhat ironic since King's 7-novel
Dark Tower
saga is essentially the Maine author's attempt to create his own epic fantasy on scale comparable to Tolkien's masterful work. Evidently the multi-faceted
Dark Tower
project doesn't fit Universal's current business model (though a $200 million adaptation of a kid's board game does).
According to
Deadline,
Javier Bardem was already attached to the project to play the series' protagonist, and the behind-the-camera talent was equally impressive. Ron Howard (
A Beautiful Mind
) was directing, and Akiva Goldsman has written the script for the first film and the first leg of the TV series with Mark Verheiden (
Battlestar Galactica, Falling Skies
) on board to co-write and shepherd the TV series, which was going to be shot in conjunction with the production of the film, and was to have aired on Universal's NBC TV network.
Studio sources deny that it was NBC (the "biggest loser" network, which passed on Wonder Woman and has demonstrated almost no ability to create TV dramas in recent years) that balked at carrying the TV series, which put the kibosh on the deal. Universal certainly could just be pulling in its horns. It is currently financing two very expensive (in the $200 million neighborhood according to Deadline) projects, an adaptation of the Hasbro board game Battleship and a Keanu Reeves-starring version of The 47 Ronin, which have to be defined as "risky," if not "suicidal." The studio also recently demonstrated its uneasiness with the fantasy genre by passingon Guillermo del Toro's $150 million adaptation of H.P. Lovecraft's At the Mountains of Madness even though Tom Cruise was attached.
Where does this leave The Dark Tower project? Well, it's in "turnaround," which typically in Hollywood turns out to be a cul de sac, though occasionally projects like Watchmen do pass through several studios before they make it to the screen. Certainly the filmmakers associated with The Dark Tower have earned a lot respect in Tinseltown, but a project with the scope of The Dark Tower requires a lot of commitment on the part of a studio/financing partner, and the current climate in Hollywood, thanks to declining DVD revenues and an anemic box office so far in 2011, is decidedly risk averse.