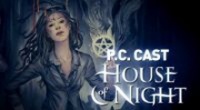 Comic-Con News—Dark Horse's CEO Mike Richardson announced the November debut of a new comic series, House of Night, which is based on the bestselling House of Night series of teen vampire novels. P.C. Cast and her daughter Kristin, whose House of Night series has sold over 7 million copies in North America and has been represented on the New York Times bestseller list for 63 straight weeks, are co-writing the new Dark Horse comic book series. The comic will not be a straight adaptation of the novels, it will instead be an original story, which will take place between events described in Betrayed, the second volume in the series that has reached nine volumes so far.
Kent Dalian, who is adapting the House of Night novels for Empire Pictures, will be co-writing the Dark Horse comic, which will be illustrated by Joelle Jones (Troublemaker). For the The House of Night series Cast has developed a complex vampire cosmology. A small percentage of teenagers are genetically destined to become Vampyres during their adolescence, a change that takes four years and has to take place in one of the House of Night boarding schools, where the "fledglings" learn how to survive as vampires.
The House of Night series of novels, which is second only to Twilight in the teen vampire genre in sales, blends its unique take on vampirism with adolescent rivalries and insecurities, religious intolerance, and romance. Like the Twilight series, The House of Night books sell primarily to female readers, so Dark Horse is once again attempting to enlarge the audience for comics and graphic novels. Like Yen Press' Twilight graphic novels, the biggest sales for The House of Night comics and GNs could be in the bookstore market, though they also present the opportunity to bring more female customers to comic shops.