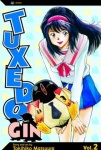 Disney has hired Night at the Museum co-writer Robert Ben Garant to write Tux, a live action adaptation of Tokihiko Matsuura's manga Tuxedo Gin published by Shogakukan in Japan and Viz Media in the U.S.
Tuxedo Gin is not your typical talking animal fare. Its gritty protagonist is a young boxer who falls into a coma after he is severely injured in a motorcycle accident and finds that he must live out the natural lifespan of another animal before he can return to his human body. Remembering his girlfriend's love of penguins he decides to come back as an Adelie penguin. As a penguin he manage to get adopted by the girl of his dreams and does his best to "protect" her from other potential suitors in this fun action/comedy/ romance.
According to
Deadline,
it took more than two years for Disney and producers Paul Young and Peter Principato to negotiate the rights to the property in a complicated deal with Shogakukan and Viz Media.