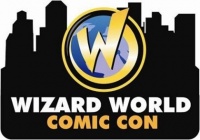 The Wizard World Website now lists just 8 shows and one of those, a LA show at the Los Angeles Convention Center still doesn't have set dates. The other seven shows with actual dates include two 2011 events, the Mid-Ohio Con (October 22-23), and Wizard World Austin (November 11-13th), and five in 2012 starting with New Orleans (January 28-29), Toronto (March 24-25), Big Apple (May 19-20), Philadelphia (June 1-3), and Chicago (August 9-12).
Conspicuously missing from the current list are the Miami Comic, which had been slated for December 8-9, the Atlanta Comic-Con, and the Central Canada Comic Con in Winnipeg (see "
Wizard World Buys Two Shows
"). Other shows that Wizard World had acquired or announced, but which are not now listed on the company's Website include shows in Anaheim, Nashville, Cleveland, Cincinnati, and New Jersey.
Wizard World just finished putting on a very successful show in Chicago, which covered a full range of pop culture categories including tabletop gaming (see "
GAMA Partners With Wizard World
").