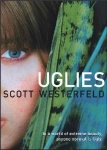 Del Rey Books EIC Betsy Mitchell has acquired the rights to publish graphic novels set in the world of Scott Westerfeld's bestselling Uglies science fiction novels. The novels, set in a future world in which teens get cosmetic surgery on their sixteenth birthdays, tell the stories of a group of "ugly" teens who attempt to escape the system.
Two black and white graphic novel volumes have been announced. Shay's Story, in May 2012, will take the point of view of the "best frenemy" of the series heroine; and the sequel, in 2013, will follow up.
Series author Scott Westerfeld and comics veteran Devin Grayson will cowrite. Art is by Steven Cummings (Marvel, DC, Tokyopop).
A live action movie based on the novel series is in development by producer John Davis and the founders of Lola Visual Effects.