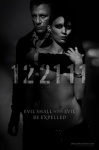 DC Comics announced today that it would publish (under its Vertigo imprint) graphic novel adaptations of Stieg Larsson's enormously popular Millennium Trilogy, starting in 2012 with a two-part graphic novel adaptation of the first book in the series, The Girl With the Dragon Tattoo. It will be followed in 2013 by a two-volume graphic novel version of The Girl Who Played With Fire, and in 2014 by a similarly-formatted comics adaptation of The Girl Who Kicked the Hornet's Nest.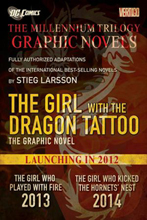 Larsson's
Millennium Trilogy
has sold more than 60 million copies worldwide, with sales in the U.S. alone of over 17 million copies. Lisabeth Salander, the eponymous heroine of the trilogy is a pint-size, inked-up, computer hacker, who is tough and resourceful—and one of the most unforgettable literary creations of our new century. The success of Larsson's posthumous trilogy has created a vogue for "Scandinavian Noir" among publishers and filmmakers—the
Millennium Trilogy
was made into an excellent series of Swedish movies, and the first Hollywood adaptation of Larsson's work, David Fincher's film of
The Girl With the Dragon Tattoo
will debut on December 21st.
With its adult themes that include sex, extreme violence, and corporate corruption, the Millennium Trilogy is an excellent fit for DC's mature readers-skewing Vertigo imprint, which has published a number of graphic novel in recent years based on scripts from serious crime writers such as Ian Rankin. Details concerning the creators of the graphic novel adaptations of the Millennium Trilogy graphic novels will be announced in the near future.