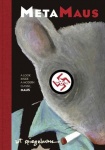 MetaMaus: A Look Inside A Modern Classic HC
Publisher: Pantheon
Release Date: October 4th, 2011
Price: $35.00
Creator: Art Spiegelman
Format: 300 pgs., Hardcover with DVD
ISBN: 978-0-3754-2394-9
ICv2 Rating: 4.5 out of 5 stars
Art Spiegelman's Maus is an acknowledged graphic novel classic, a unique work of such importance that it fully justifies the publication of MetaMaus, which is essentially a lengthy series of interviews with Spiegelman in which he explains nearly every aspect of the torturous process that resulted in the creation of Maus.

Part of the reason that Maus is such a key work in the development of the modern graphic novel is the way in which Spiegelman manages to unite the confessional, autobiographical ethos of underground comics with the medium's ability to document history. If Maus were just a cartoon history of the holocaust or simply an inside look at a dysfunctional family of concentration camp survivors in America, it would not the complex, layered work it is, but Spiegelman manages to blend the twin strands that grew out of the underground comix movements, the Justin Green/confessional comic and the Jack Jackson historical graphic novel.

In MetaMaus Spiegelman discusses frankly and in great detail every key aspect of the work, his complex and very different relationships with his mother and father, his painstaking research on the holocaust, and his struggles to realize his vision in graphic form. MetaMaus documents the creation of Maus with a host of illustrations, both his own sketches, the works of other artists, and the historical photographs that formed part of his exhaustive research. Readers of MetaMaus will come away with a great appreciation of the enormous amount of effort that the creation of Maus required, as well as many insights into the basic nature and potential of the comics medium. Spiegelman is not a "natural," his artistic mastery is the result of intense labor and the constant application of a keen questioning intelligence that rarely appears satisfied. Like the best autobiographical artists of his generation, he is unafraid to expose his prejudices, his blindspots, and his failings, artistic and personal. MetaMaus is testimony to the blood, sweat, and tears that went in to the creation of this modern masterwork. The accompanying DVD expands on the material presented in the book's printed pages. It includes the complete Maus saga in digital form, plus the full interviews that Spiegelman conducted with his father about the death camps (the salient portions of which are presented in printed form in the last section of MetaMaus), plus more photos, sketches, drawings, and videos.
--Tom Flinn: ICv2 VP-Content