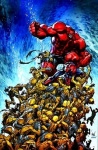 Marvel has announced that it has extended the free digital with print promotion on Avenging Spider-Man to all the comics in the first story arc (through #3). The program offers a code redeemable on the Marvel iOS app or Chrome store for a free digital copy of the issue purchased in stores.
The program is seen as a way to add value to Marvel's $3.99 titles, with the potential to expand to more titles in the future (see "
Free Digital Copy of 'Avenging Spider-Man' #1
"). Retailers are being bountied $.50 each for downloaders that identify the store where they bought the physical comics.