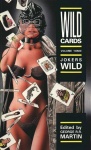 Syfy Films has acquired film rights to
Wild Cards
, the superhero/science fiction book series edited, co-created, and at times written by George R.R. (
Game of Thrones
) Martin, according to
Hollywood Reporter
. This is the first acquisition by Syfy Films, which was created late last year to make "moderately priced" genre films (see "
Syfy Films
"), with distribution and marketing by Universal. Melinda Snodgrass, who was also a co-creator of
Wild Cards
, will write the screenplay.
Wild Cards is a series of books set in a shared science fiction/superhero alternate universe. Numerous famed authors have contributed over the years, including Martin, Roger Zelazny, Lewis Shiner, and Chris Claremont, with a variety of collaborative storytelling techniques. The first book was published in 1987. There are currently over 20 books, with numerous writers involved; all have reportedly signed on to the Syfy deal.
The Martin quotes in the article took pains to point out the differences between Big Two superheroes, "doing retcons all the time," and the Wild Cards universe, where the creators have "a sense of history."
The Wild Cards creators have carefully managed the property in preparation for this day. In the early 90s, Capital City Distribution was contacted because its trading card magalogue, Wild Cards, was seen as potentially confusing to the mark. Capital changed the title of its publication in response.
In addition to the books, there have been a couple of comic miniseries adaptations of particular stories, one by Marvel (Epic), and more recently one begun by the Dabel Bros. and completed and collected by Dynamite. Green Ronin has produced Wild Cards roleplaying game material for its Mutants and Masterminds superhero RPG system.