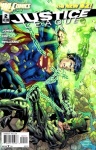 These are estimates of the sales on comic books by Diamond
U.S.
to comic specialty stores during October 2011.

For an overview and analysis of comic sales in October, see "New 52 #2s Down Only 6%."

For an analysis of the dollar trends in October, see "DC Crushes Marvel."
For our estimates of actual sales by Diamond U.S. from comic specialty stores on graphic novels shipped during October, see "Top 300 Graphic Novels Actual--October 2011."
TOP 300 COMICS -- October 2011

Rank

Index

Title

Price

Pub

Est.Qty

1

104.80

JUSTICE LEAGUE #2

$3.99

DC

180,709

2

100.00

BATMAN #2

$2.99

DC

172,428

3

89.23

ACTION COMICS #2

$3.99

DC

153,855

4

82.55

GREEN LANTERN #2

$2.99

DC

142,344

5

66.19

FLASH #2

$2.99

DC

114,137

6

64.25

DETECTIVE COMICS #2 [*]

$2.99

DC

110,789

7

61.75

INCREDIBLE HULK #1

$3.99

MAR

106,472

8

55.59

WOLVERINE AND X-MEN #1

$3.99

MAR

95,855

9

55.44

FEAR ITSELF #7

$4.99

MAR

95,599

10

54.65

SUPERMAN #2 [*]

$2.99

DC

94,233

11

52.45

BATMAN THE DARK KNIGHT #2 [*]

$2.99

DC

90,445

12

51.57

BATMAN AND ROBIN #2 [*]

$2.99

DC

88,926

13

45.85

WONDER WOMAN #2

$2.99

DC

79,060

14

43.63

BATGIRL #2 [*]

$2.99

DC

75,227

15

43.14

BATWOMAN #2

$2.99

DC

74,392

16

41.82

TEEN TITANS #2 [*]

$2.99

DC

72,107

17

41.59

GREEN LANTERN NEW GUARDIANS #2

$2.99

DC

71,713

18

41.32

AQUAMAN #2 [*]

$2.99

DC

71,240

19

40.97

GREEN LANTERN CORPS #2 [*]

$2.99

DC

70,651

20

38.71

RED LANTERNS #2 [*]

$2.99

DC

66,747

21

38.13

NIGHTWING #2 [*]

$2.99

DC

65,749

22

34.92

UNCANNY X-MEN #544

$3.99

MAR

60,212

23

34.50

JUSTICE LEAGUE INTERNATIONAL #2 [*]

$2.99

DC

59,490

24

34.49

FEAR ITSELF FEARLESS #1

$2.99

MAR

59,464

25

34.46

AMAZING SPIDER-MAN #671

$3.99

MAR

59,426

26

34.16

AVENGERS #18

$3.99

MAR

58,897

27

34.00

SWAMP THING #2

$2.99

DC

58,634

28

33.56

AMAZING SPIDER-MAN #672

$3.99

MAR

57,860

29

33.18

CATWOMAN #2 [*]

$2.99

DC

57,216

30

33.09

JUSTICE LEAGUE DARK #2 [*]

$2.99

DC

57,053

31

32.35

X-MEN REGENESIS #1

$3.99

MAR

55,787

32

32.32

NEW AVENGERS #17

$3.99

MAR

55,732

33

32.04

SUPERGIRL #2 [*]

$2.99

DC

55,249

34

31.94

X-MEN SCHISM #5

$3.99

MAR

55,081

35

30.99

RED HOOD AND THE OUTLAWS #2 [*]

$2.99

DC

53,444

36

30.64

GREEN ARROW #2 [*]

$2.99

DC

52,837

37

30.46

ULTIMATE COMICS SPIDER-MAN #3

$3.99

MAR

52,521

38

30.39

UNCANNY X-FORCE #16

$3.99

MAR

52,398

39

29.97

SUPERBOY #2 [*]

$2.99

DC

51,682

40

28.79

FF #10

$2.99

MAR

49,642

41

28.09

FF #11

$2.99

MAR

48,433

42

27.89

ANIMAL MAN #2 [*]

$2.99

DC

48,089

43

27.74

BIRDS OF PREY #2 [*]

$2.99

DC

47,840

44

27.56

STORMWATCH #2

$2.99

DC

47,520

45

25.87

SUICIDE SQUAD #2 [*]

$2.99

DC

44,613

46

25.75

ULTIMATE COMICS X-MEN #2

$3.99

MAR

44,399

47

25.53

MIGHTY THOR #7

$3.99

MAR

44,017

48

25.10

SECRET AVENGERS #18

$3.99

MAR

43,280

49

24.93

SAVAGE HAWKMAN #2 [*]

$2.99

DC

42,987

50

24.65

LEGION OF SUPER HEROES #2 [*]

$2.99

DC

42,504

51

23.72

X-MEN #19

$3.99

MAR

40,906

52

23.66

ULTIMATE COMICS ULTIMATES #3

$3.99

MAR

40,792

53

23.30

DEATHSTROKE #2 [*]

$2.99

DC

40,182

54

22.96

FURY OF FIRESTORM THE NUCLEAR MEN #2 [*]

$2.99

DC

39,591

55

22.86

DAREDEVIL #5

$2.99

MAR

39,413

56

22.85

WOLVERINE #17 XREGG

$3.99

MAR

39,405

57

22.46

INVINCIBLE IRON MAN #509

$3.99

MAR

38,721

58

22.31

BATWING #2 [*]

$2.99

DC

38,475

59

22.26

LEGION LOST #2 [*]

$2.99

DC

38,385

60

22.18

LEGION SECRET ORIGIN #1

$2.99

DC

38,248

61

22.08

X-MEN LEGACY #257

$2.99

MAR

38,070

62

22.04

DEMON KNIGHTS #2 [*]

$2.99

DC

38,007

63

21.71

DC UNIVERSE PRESENTS #2 [*]

$2.99

DC

37,426

64

21.14

BTVS SEASON 9 FREEFALL #2

$2.99

DAR

36,448

65

21.10

FRANKENSTEIN AGENT OF SHADE #2 [*]

$2.99

DC

36,381

66

20.94

HUNTRESS #1

$2.99

DC

36,099

67

20.83

GRIFTER #2 [*]

$2.99

DC

35,910

68

20.80

ALL STAR WESTERN #2 [*]

$3.99

DC

35,871

69

20.56

BLUE BEETLE #2 [*]

$2.99

DC

35,456

70

20.13

RESURRECTION MAN #2 [*]

$2.99

DC

34,704

71

20.00

CAPTAIN ATOM #2 [*]

$2.99

DC

34,478

72

18.92

ASTONISHING X-MEN #43

$3.99

MAR

32,620

73

18.83

HAWK AND DOVE #2 [*]

$2.99

DC

32,461

74

18.80

AVENGERS 1959 #1

$2.99

MAR

32,418

75

18.77

MISTER TERRIFIC #2 [*]

$2.99

DC

32,367

76

18.71

VENOM #8

$2.99

MAR

32,266

77

18.58

CAPTAIN AMERICA AND BUCKY #623

$2.99

MAR

32,041

78

18.43

WALKING DEAD #90 (MR)

$2.99

IMA

31,778

79

18.18

WALKING DEAD #89 (MR)

$2.99

IMA

31,351

80

18.11

VOODOO #2

$2.99

DC

31,221

81

18.06

I VAMPIRE #2 [*]

$2.99

DC

31,139

82

17.77

SHADE #1

$2.99

DC

30,648

83

17.64

BATMAN ODYSSEY VOL 2 #1

$3.99

DC

30,410

84

17.07

OMAC #2 [*]

$2.99

DC

29,434

85

16.89

STATIC SHOCK #2 [*]

$2.99

DC

29,124

86

16.55

BLACKHAWKS #2 [*]

$2.99

DC

28,534

87

16.41

MEN OF WAR #2 [*]

$3.99

DC

28,301

88

16.38

AQUAMAN #1

$2.99

DC

28,243

89

16.27

JOURNEY INTO MYSTERY #629

$2.99

MAR

28,054

90

16.07

JOURNEY INTO MYSTERY #630

$2.99

MAR

27,701

91

15.98

DEADPOOL #45

$2.99

MAR

27,552

92

15.94

MOON KNIGHT #6

$3.99

MAR

27,493

93

15.94

GREEN LANTERN #1

$2.99

DC

27,477

94

15.67

HULK #42

$2.99

MAR

27,025

95

15.59

DEADPOOL #44

$2.99

MAR

26,878

96

15.30

PENGUIN PAIN AND PREJUDICE #1

$2.99

DC

26,380

97

15.29

SUPERIOR #5 (MR)

$2.99

MAR

26,361

98

15.22

DETECTIVE COMICS #1

$2.99

DC

26,235

99

14.99

PUNISHER #4

$2.99

MAR

25,847

100

14.91

SUPERIOR #6 (MR)

$2.99

MAR

25,707

101

14.80

HULK #43

$2.99

MAR

25,514

102

14.71

NEW MUTANTS #32

$2.99

MAR

25,364

103

14.36

ULTIMATE COMICS HAWKEYE #3

$3.99

MAR

24,762

104

13.94

X-23 #15

$2.99

MAR

24,043

105

13.75

THUNDERBOLTS #164

$2.99

MAR

23,712

106

13.67

X-FACTOR #226

$2.99

MAR

23,569

107

13.58

AVENGERS ACADEMY #20

$2.99

MAR

23,412

108

13.40

BATMAN #1

$2.99

DC

23,100

109

13.25

TEENAGE MUTANT NINJA TURTLES ONGOING #3

$3.99

IDW

22,855

110

12.96

SPACEMAN #1 (MR)

$1.00

DC

22,355

111

12.38

BATMAN AND ROBIN #1

$2.99

DC

21,340

112

12.21

SHIELD #3

$2.99

MAR

21,060

113

12.19

GHOST RIDER #4

$2.99

MAR

21,012

114

12.15

STAR TREK LEGION OF SUPERHEROES #1

$3.99

IDW

20,950

115

12.02

ALPHA FLIGHT #5

$2.99

MAR

20,731

116

11.46

DAKEN DARK WOLVERINE #15

$2.99

MAR

19,759

117

11.42

WONDER WOMAN #1

$2.99

DC

19,688

118

11.29

DAKEN DARK WOLVERINE #16

$2.99

MAR

19,472

119

11.27

ANGEL & FAITH #3

$2.99

DAR

19,437

120

11.23

BATMAN THE DARK KNIGHT #1

$2.99

DC

19,368

121

11.07

STAR WARS CRIMSON EMPIRE III EMPIRE LOST #1

$3.50

DAR

19,095

122

11.06

ANNIHILATORS EARTHFALL #2

$3.99

MAR

19,068

123

11.01

AVENGERS 1959 #2

$2.99

MAR

18,989

124

10.99

ORCHID #1 CARNEVALE CVR

$1.00

DAR

18,942

125

10.79

SUPERMAN #1

$2.99

DC

18,599

126

10.76

FLASH #1

$2.99

DC

18,558

127

10.69

AVENGERS SOLO #1

$3.99

MAR

18,427

128

10.69

GENERATION HOPE #12

$2.99

MAR

18,424

129

10.58

BLACK PANTHER MOST DANGEROUS MAN ALIVE #524

$2.99

MAR

18,248

130

10.55

ACTION COMICS #1

$3.99

DC

18,199

131

10.50

FABLES #110 (MR)

$2.99

DC

18,109

132

10.37

NIGHTWING #1

$2.99

DC

17,875

133

10.17

PUNISHERMAX #18 (MR)

$3.99

MAR

17,541

134

10.17

BOYS #59 (MR)

$3.99

DYN

17,533

135

10.06

FEAR ITSELF HOME FRONT #7

$3.99

MAR

17,339

136

9.99

MY GREATEST ADVENTURE #1

$3.99

DC

17,222

137

9.73

LEGION OF MONSTERS #1

$3.99

MAR

16,785

138

9.71

FEAR ITSELF HULK VS DRACULA #3

$2.99

MAR

16,740

139

9.58

BATGIRL #1

$2.99

DC

16,512

140

9.33

GAME OF THRONES #2 (MR)

$3.99

DYN

16,094

141

9.24

CATWOMAN #1

$2.99

DC

15,933

142

9.20

DEADPOOL MAX 2 #1 (MR)

$3.99

MAR

15,865

143

9.20

JUSTICE LEAGUE #2 COMBO PACK

$4.99

DC

15,860

144

9.12

BATWOMAN #1

$2.99

DC

15,724

145

9.05

DARK TOWER GUNSLINGER BATTLE OF TULL #5

$3.99

MAR

15,613

146

9.04

JUSTICE LEAGUE #1

$3.99

DC

15,593

147

9.02

JOHN CARTER OF MARS WORLD OF MARS #1

$3.99

MAR

15,550

148

8.97

DC UNIVERSE ONLINE LEGENDS #15

$2.99

DC

15,460

149

8.92

TEEN TITANS #1

$2.99

DC

15,381

150

8.84

INVINCIBLE #83

$2.99

IMA

15,249

151

8.84

DC UNIVERSE ONLINE LEGENDS #16

$2.99

DC

15,238

152

8.83

RED LANTERNS #1

$2.99

DC

15,230

153

8.75

SPIDER-ISLAND HEROES FOR HIRE #1

$2.99

MAR

15,079

154

8.66

SPIDER-ISLAND CLOAK AND DAGGER #3

$2.99

MAR

14,929

155

8.41

ANIMAL MAN #1

$2.99

DC

14,502

156

8.41

FEAR ITSELF YOUTH IN REVOLT #6

$2.99

MAR

14,493

157

8.30

BOYS BUTCHER BAKER CANDLESTICKMAKER #4 (MR)

$3.99

DYN

14,303

158

8.26

SPIDER-ISLAND AMAZING SPIDER-GIRL #3

$2.99

MAR

14,248

159

8.23

AMERICAN VAMPIRE SURVIVAL OT FITTEST #5 (MR)

$2.99

DC

14,186

160

8.21

SUPERGIRL #1

$2.99

DC

14,160

161

8.20

RED HOOD AND THE OUTLAWS #1

$2.99

DC

14,132

162

8.14

KIRBY GENESIS #4

$3.99

DYN

14,030

163

8.11

SWAMP THING #1

$2.99

DC

13,985

164

8.07

RED SKULL #4

$2.99

MAR

13,919

165

7.93

SUPERBOY #1

$2.99

DC

13,675

166

7.88

STAR WARS OLD REPUBLIC #5 LOST SUNS

$3.50

DAR

13,580

167

7.82

SPAWN #212

$2.99

IMA

13,483

168

7.78

STAND NIGHT HAS COME #3

$3.99

MAR

13,423

169

7.72

STAR WARS INVASION REVELATIONS #4

$3.50

DAR

13,313

170

7.65

STAR TREK ONGOING #2

$3.99

IDW

13,198

171

7.65

HERC #9

$2.99

MAR

13,190

172

7.49

SPIDER-ISLAND DEADLY HANDS OF KUNG FU #3

$2.99

MAR

12,920

173

7.29

GREEN LANTERN NEW GUARDIANS #1

$2.99

DC

12,563

174

7.24

WARLORD OF MARS #11

$3.99

DYN

12,491

175

7.15

GARTH ENNIS JENNIFER BLOOD #5 (MR)

$3.99

DYN

12,337

176

7.14

CHEW #21 (MR)

$2.99

IMA

12,310

177

7.13

WARLORD OF MARS DEJAH THORIS #7

$3.99

DYN

12,296

178

7.03

JUSTICE LEAGUE DARK #1

$2.99

DC

12,115

179

6.93

VENGEANCE #4

$3.99

MAR

11,948

180

6.92

STAR WARS KNIGHT ERRANT DELUGE #3

$3.50

DAR

11,937

181

6.86

SUICIDE SQUAD #1

$2.99

DC

11,836

182

6.80

GREEN LANTERN CORPS #1

$2.99

DC

11,723

183

6.75

RED WING #4

$3.50

IMA

11,638

184

6.72

VAMPIRELLA #10

$3.99

DYN

11,581

185

6.70

X-MEN #1 20TH ANNIVERSARY EDITION

$3.99

MAR

11,552

186

6.70

CONAN ROAD OF KINGS #9

$3.50

DAR

11,546

187

6.56

ALL STAR WESTERN #1

$3.99

DC

11,311

188

6.51

KEVIN SMITH BIONIC MAN #3

$3.99

DYN

11,229

189

6.43

BPRD HELL ON EARTH RUSSIA #2

$3.50

DAR

11,093

190

6.38

JUSTICE LEAGUE INTERNATIONAL #1

$2.99

DC

11,003

191

6.35

STITCHED #1 (MR)

$3.99

AVA

10,949

192

6.32

STORMWATCH #1

$2.99

DC

10,890

193

6.31

DOLLHOUSE EPITAPHS #4

$3.50

DAR

10,888

194

6.22

DEMON KNIGHTS #1

$2.99

DC

10,727

195

6.19

GREEN ARROW #1

$2.99

DC

10,679

196

6.17

VAMPIRELLA #11

$3.99

DYN

10,644

197

6.17

GODZILLA KINGDOM OF MONSTERS #8

$3.99

IDW

10,637

198

6.11

FURY OF FIRESTORM THE NUCLEAR MEN #1

$2.99

DC

10,539

199

6.08

UNWRITTEN #30 (MR)

$2.99

DC

10,481

200

6.07

TRANSFORMERS ONGOING #28

$3.99

IDW

10,469

201

6.04

UNEXPECTED #1 (MR)

$7.99

DC

10,416

202

6.00

BIRDS OF PREY #1

$2.99

DC

10,350

203

5.94

TRANSFORMERS ONGOING #27

$3.99

IDW

10,242

204

5.94

GI JOE VOL 2 ONGOING #6

$3.99

IDW

10,241

205

5.85

MORNING GLORIES #13 (MR)

$2.99

IMA

10,094

206

5.83

ABE SAPIEN DEVIL DOES NOT JEST #2

$3.50

DAR

10,056

207

5.79

CAPTAIN AMERICA CORPS #5

$2.99

MAR

9,981

208

5.68

DEATHSTROKE #1

$2.99

DC

9,792

209

5.66

SONIC THE HEDGEHOG #229

$2.99

ARC

9,768

210

5.65

GRIFTER #1

$2.99

DC

9,737

211

5.63

HELLRAISER #6 (MR)

$3.99

BOO

9,715

212

5.62

GI JOE A REAL AMERICAN HERO #171

$3.99

IDW

9,686

213

5.57

HELLBLAZER #284

$2.99

DC

9,608

214

5.52

GHOSTBUSTERS ONGOING #2

$3.99

IDW

9,514

215

5.41

INFINITE #3

$2.99

IMA

9,322

216

5.37

FRANKENSTEIN AGENT OF SHADE #1

$2.99

DC

9,266

217

5.36

SEVERED #3 (MR)

$2.99

IMA

9,240

218

5.36

IZOMBIE #18 (MR)

$2.99

DC

9,237

219

5.26

SNAKE EYES ONGOING (IDW) #6

$3.99

IDW

9,073

220

5.20

WARLORD OF MARS FALL OF BARSOOM #3

$3.99

DYN

8,962

221

5.18

COBRA ONGOING #6

$3.99

IDW

8,927

222

5.16

SUPERNATURAL #1

$2.99

DC

8,896

223

5.06

GODZILLA GANGSTERS & GOLIATHS #5

$3.99

IDW

8,725

224

5.05

BALTIMORE CURSE BELLS #3

$3.50

DAR

8,716

225

5.03

ULTIMATE COMICS FALLOUT #4

$3.99

MAR

8,679

226

4.99

MASS EFFECT INVASION #1

$3.50

DAR

8,607

227

4.93

DOROTHY AND WIZARD IN OZ #2

$3.99

MAR

8,504

228

4.92

RESURRECTION MAN #1

$2.99

DC

8,490

229

4.88

IRREDEEMABLE #30

$3.99

BOO

8,419

230

4.84

STRANGE TALENT OF LUTHER STRODE #1

$2.99

IMA

8,338

231

4.83

30 DAYS OF NIGHT ONGOING #1

$3.99

IDW

8,326

232

4.81

JOE HILL THE CAPE #2

$3.99

IDW

8,300

233

4.80

DUNGEONS AND DRAGONS #12

$3.99

IDW

8,274

234

4.78

ULTIMATE COMICS SPIDER-MAN #1

$3.99

MAR

8,246

235

4.77

LEGION LOST #1

$2.99

DC

8,226

236

4.64

SAVAGE HAWKMAN #1

$2.99

DC

8,005

237

4.64

LADY DEATH (ONGOING) #10 (MR)

$3.99

AVA

7,997

238

4.62

SWEET TOOTH #26 (MR)

$2.99

DC

7,963

239

4.60

COLD WAR #1

$3.99

IDW

7,934

240

4.59

LEGION OF SUPER HEROES #1

$2.99

DC

7,923

241

4.57

SPONGEBOB COMICS #5

$2.99

UNI

7,874

242

4.55

BLUE BEETLE #1

$2.99

DC

7,840

243

4.54

TINY TITANS #45

$2.99

DC

7,836

244

4.49

BATWING #1

$2.99

DC

7,741

245

4.49

YOUNG JUSTICE #9

$2.99

DC

7,737

246

4.43

VAMPIRELLA SCARLET LEGION #5

$3.99

DYN

7,640

247

4.37

DARK HORSE PRESENTS #5

$7.99

DAR

7,539

248

4.37

JUSTICE LEAGUE #1 COMBO PACK

$4.99

DC

7,537

249

4.36

GFT DREAM EATER CROSSOVER CONCLUSION (PT 12)

$5.99

ZEN

7,517

250

4.35

ALL WINNERS SQUAD BAND OF HEROES #5

$2.99

MAR

7,497

251

4.34

DOCTOR WHO ONGOING VOL 2 #10

$3.99

IDW

7,481

252

4.33

MEGA MAN #6

$2.99

ARC

7,474

253

4.29

DC UNIVERSE PRESENTS #1

$2.99

DC

7,402

254

4.28

SUPER DINOSAUR #5

$2.99

IMA

7,380

255

4.26

LAST OF THE GREATS #1

$3.99

IMA

7,338

256

4.25

GUARDING THE GLOBE #6

$3.50

IMA

7,321

257

4.24

I VAMPIRE #1

$2.99

DC

7,310