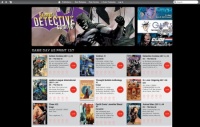 ComiXology has announced a number of improvements to its Digital Storefront program, which enables retailers to profit from the sale of digital comics. Around 145 retailers are currently participating in the program, which rolled out in time for retailers to capitalize on the launch of DC's New 52 and the corresponding move to day and date digital release.

ComiXology CEO David Steinberger thanked the retailers with Digital Storefronts. ""The retailers who participated in this program really are the unsung heroes here," he said. "Not only did we have a compressed time frame to implement the Retailer Digital Storefront program, but we were not allowed the luxury to beta test in the way we would have liked. But through thick and thin these stores stood by us and we really wanted to go out of our way to thank them for their support."
As thanks, comiXology has paid retailers their share of sales made from their Digital Storefronts much earlier (15 days after the end of the month) and at a much lower threshold ($1) than originally promised, and expects that to continue.
A new Terms of Sale is being rolled out, which incorporates changes suggested by retailers.
And other changes, including improvements to store branding, retailer reporting, and set-up, have also been implemented.
Five of the top seven comic publishers (DC, Image, IDW, Dynamite, and Boom) as well as many others, are now participating in the program.
ICv2 is assisting comiXology with the deployment of Digital Storefronts.