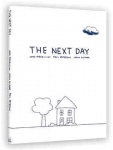 The Next Day: A Graphic Novella TP
Publisher: Pop Sandbox
Release Date: May 2011
Price: $16.95
Creator(s): Written by Paul Peterson and Jason Gilmore; Illustrated by John Porcellino
Format: 100 pgs.; B&W; Trade Paperback
ISBN: 978-0-98648-841-2
Age Rating: 14+
ICv2 Rating: 4 Stars out of 5
Four people--Ryan, Jenn, Chantel, and Tina--tell the story of how they tried to commit suicide, talk about their past and the problems they all faced with drugs, abuse, and mental illness, and finally tell what happened after their suicide attempts were unsuccessful. Their voices are clear and they do not beg for understanding, but simply present their lives as they happened. Porcellino's simple, black and white line drawings are a perfect companion to the storytellers' voices. He uses visual cues where necessary--looming clouds signifying a coming storm, a house abandoned at Christmas time--but mostly he just weaves the four stories together so that readers can see how alike, how human the problems of the four protagonists are.
Readers diving into Peterson and company's book may at first be confused by the layout, but once they begin to look at it as a documentary in print, rather than a more typical, linear story, the work comes together seamlessly, building a matter-of-fact, but compassionate portrait of depression and suicide. Indeed,
The Next Day
actually an animated documentary written and conducted by Peterson, shot and directed by Gilmore, and illustrated by Porcellino, available online (nfb.ca/thenextday) from the National Film Board of Canada. By also turning their documentary into a graphic novel, the creators acknowledge that visual media tells powerful story and reaches a wide audience. There are no easy answers presented by this novella, but the humanity of the work is what makes it so necessary for these stories to be told.
--
Snow Wildsmith: Writer and former teen librarian and ALA/YALSA committee member.