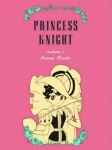 Princess Knight: Part 1 TP and Part 2 TP (Manga)
Publisher: Vertical
Release Date: November 2011 (Part 1) and December 2011 (Part 2)
Price: $13.95 (each)
Creator: Osamu Tezuka
Format: 352 pgs.; B&W; Trade Paperback (each)
ISBN: 978-1-93565-425-4 (Part 1) and 978-1-93565-431-5 (Part 2)
ICv2 Rating: 2.5 Stars out of 5
Sapphire, the heir to Silverland, is born a girl, but has both a boy heart and a girl heart. Since a girl cannot inherit the throne, her parents decide to raise her as a boy, but when her father is killed and she assumes her throne, her position is challenged by the evil Duke Duralumin who wants his babyish son Plastic to rule.
Tezuka, called the God of Manga in Japan, often played with gender roles and gender image in his works and
Princess Knight
is one of the older examples of that. Originally published between 1953 and 1956, the two-volume fantasy still has some touches of old-fashioned beliefs about the roles of men and women, but overall it shows that Tezuka knew times were changing. The younger characters do not want to stick to the roles their parents proscribed for them and most of the women are tired of being told that they are the lesser sex. The series probably worked better as a monthly read; when read in one sitting it seems rather chaotic and unfocused, bouncing rapidly from one storyline to the next. But the work does have a
Looney Toons
enjoyment about it, which makes even the deaths and the religious overtones seem like just more wacky fun.
Tezuka was influenced by early Walt Disney and that is obvious in the art. Enough time has passed, though, that the Disney-esc qualities seem retro, rather than dated and Tezuka's clear black and white illustrations practically leap from the page with liveliness. There is a some swearing, which may keep this from children's collections in more conservative areas, but other than that there is nothing that keeps this from being a fun way to introduce kids and young teens to the work of a manga master.
--
Snow Wildsmith: Writer and former teen librarian and ALA/YALSA committee member.