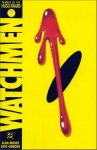 DC has been sending legal notices requesting that Websites remove art that appears to be tied to two of the upcoming
Watchmen
prequel miniseries.
Bleeding Cool
, which says it published two pieces of art featuring the Comedian by JG Jones and Nite Owl by Joe and Andy Kubert, was told, "We do not need to belabor the unlawful nature of this action (which could not have taken place without the breach of a confidentiality obligation)," by DC SVP Business & Legal Affairs Amy E. Genkins. The art has been removed from both
Bleeding Cool
and from a number of sites that grabbed images from there.
Given the description of why DC believes the publication of the art is illegal, it appears clear that the company has obtained confidentiality agreements from the creators on the books in an effort to keep the lid on until it was ready to break the news. DC has been mum on its plans for new
Watchmen
comics, as leaks have abounded (see "
Andy Kubert on 'Watchmen' Prequel?")
.