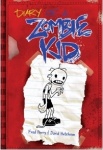 Antarctic Press has assented to a Temporary Restraining Order in federal court that will prohibit the company from selling its Diary of a Wimpy Kid parody books Diary of a Zombie Kid and Diary of a Zombie Kid: Rotten Rules. The motion for a TRO was filed on Wednesday by Wimpy Kid, Inc., with the assent of Antarctic Press as signified by the signature of Joe Dunn, CEO. The order requires Antarctic Press to provide a copy of the order to its distributors, retailers, and printers within three days of the order's entry (the judge has not yet issued the order).
The lawsuit between Wimpy Kid, Inc. and Antarctic Press, which was filed in federal court December 20th, alleges that Antarctic, through its parodies, are guilty of trademark and trade dress infringement, false designation of origin, trademark dilution and tarnishment, unfair competition under the Lanham Act, violations of the Copyright Act of 1976, and of Massachusetts Law. "In addition to the confusingly similar title, the jacket design of Defendant's infringing works are substantially similar to those of Plaintiff's series and are obviously intended to confuse the public into believing that Defendant's books are additions to such series," the complaint says.
There's a lot to protect. The complaint reveals that the six volumes of
Diary of a Wimpy Kid
have sold over 52 million copies in North America alone. The most recent volume,
Cabin Fever
, sold over a million copies in its first week, out of a six million first printing (see "
New Wimpy Kid Gets 6 Million First Printing
"). The property has also spawned merchandise and media licenses (see "
'Wimpy Kid' Kos 'Sucker Punch
'").
Antartic's first volume of
Diary of a Zombie Kid
sold around 850 copies in the direct market in August (see "
Top 300 Graphic Novels—August 2011
"). It was also distributed to the book channel, where it may be doing better; the bulk of the massive sales of the
Diary of a Wimpy Kid
volumes occurs in the book channel.
The motion for the TRO reveals that Antarctic and Wimpy Kid, Inc. are in settlement negotiations and believe the temporary restraining order would facilitate the negotiations.