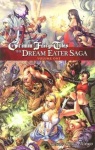 Grimm Fairy Tales: The Dream Eater Saga Vol. 1 TP
Publisher: Zenescope Entertainment
Release Date: December 2011
Price: $15.99
Creator(s): Various
Format: 176 pgs.; Full-Color; Trade Paperback
ISBN: 978-1-93706-893-6
Age Rating: Teen+
ICv2 Rating: 3 Stars out of 5
The Dream Eater Saga
is the first major crossover from Zenescope Entertainment, best known for its adult-ish adaptations of traditional fairy tales, as well as the licensed title
Charmed
.
The main Zenescope universe is one in which folk tales and fairy tales were all part of history, and many of the characters from those stories are still around, approximately immortal. Thus, this story involves the archetypes for characters ranging from Snow White to the Pied Piper.
In this story, they must band together to fight against an unstoppable force apparently created to destroy them all. This entire volume is the setup, and the forthcoming second volume contains the resolution, which means this volume does not stand well alone. While the story itself is clever, it would be a difficult jumping-on point for new readers.
Like other Zenescope stories, this one is driven by its artwork, which emphasizes pinups of the many voluptuous female characters. Unlike most other Zenescope stories, this one is a complex tale, trying to tie together elements from multiple series, over the length of a dozen comics. Like most such crossovers, this makes the story complex to follow, and the footnotes do little to assist anyone but longtime readers of each series.
The graphic violence and pinup-style art make this one for older teens and adults.
--
Nick Smith: Librarian Technician, Community Services, for the Pasadena Public Library in California.