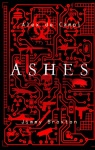 A couple of what may be bellwether projects have been funded on Kickstarter over the past couple of weeks. In the comic category,
Ashes
, a graphic novel by Alex de Campi and Jimmy Broxton, raised over $32,000, easily besting a $27,000 goal. The creators offered a five-copy bundle incorporating a signed version, plus digital versions sellable in the store.
Both digital and physical copies were offered to consumers.
Ashes
is a sequel to the Eisner-nominated Smoke, which was released by IDW in 2005 (see "
EW's 'Comic Books 101'
"). Alex de Campi wrote Smoke, which was illustrated by Igor Korday. Jimmy Broxton, who does the art on
Ashes
, has worked for Marvel and DC, among others. The story is set in a dystopic near-future London and the U.S.
Graphic novels are not the only Kickstarter projects getting funded with wholesale participation for retailers (see "
Quantum RPG Funded on Kickstarter
").