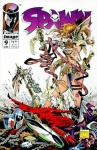 Neil Gaiman and Todd McFarlane (and other defendants, including Image Comics) have settled their long-running litigation, which began in a Wisconsin federal court ten years ago this month. The most recent ruling in the case, for Gaiman and against McFarlane in 2010, had gone against McFarlane, as had all previous rulings in the case (see "
Judge Finds Spawn Characters Derivative
"). That ruling held that Gaiman was due half the profits from characters derivative of those previously ruled as co-created by Gaiman. The only remaining steps in the litigation were related to accounting for the amounts due Gaiman.
Although details of the settlement were not disclosed, the parties did jointly request that the court rule for Gaiman and declare that Gaiman is the 50% owner of the copyrights to Spawn #9, #26, and Angela #1-#3. The filing also said that the parties had "resolved the respective future rights and obligations" with respect to the issues in question. All the parties are paying their own fees and costs.
This brings to the end this acrimonious dispute, one which has already had an impact on the much larger litigation over the ownership of Superman (see "
Battle Over Stolen Docs in Supes Case
").