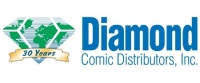 Two industry stalwarts hit major milestones on Wednesday, as Diamond Comic Distributors celebrated its 30th anniversary, and Image Comics its 20th. Diamond was founded in 1982 by retailer Steve Geppi, who'd quit his job as a mail carrier to open his first store in 1974. Diamond acquired the assets of its largest competitor, Capital City Distribution (the former publisher of Internal Correspondence) in 1996.
It's worth noting the many contributions that Diamond makes to the industry beyond moving product, serving as the bank for the comic store market, and bringing together suppliers from all over the world for its customers. Among those are its support of the Comic Book Legal Defense Fund, The Hero Initiative, the Xeric Foundation, ProLiteracy, the American Red Cross, and others.
COO Chuck Parker, who started at Diamond 27 years ago, described the company's role. "We are proud of the role we play in getting quality product from our vendors to our quality retail customers," he said. "Together, along with comic shop customers and fans, we comprise the four pillars that support our wonderful industry."
Image Comics represents the other end of the supply chain, the creators that write, draw, color, and letter comics. A post by Jim Valentino on his Facebook page notes the date as the 20th anniversary of the formation of Image Comics. The formation of the company was revolutionary when it happened, as it represented not only the formation of a new company, but also the departure of some of the top talent in the industry from Marvel. The new company permanently carved out a significant market share, as fans followed the talent to their new creations.
Of course, things have changed for Image now, as one of its founders, Jim Lee, is now a Co-Publisher of one of the Big Two, and a new partner, Robert (The Walking Dead) Kirkman has joined the founders. But the underlying purpose of the company, to promote the interest of its creators and help them connect commercially and creatively with their fans, remains.
Image is celebrating its anniversary with a convention this month to celebrate creator-owned comics and its anniversary (see "
Image Expo in February
").
ICv2 wishes both of these fine companies our best for continued success and many more anniversaries to come.