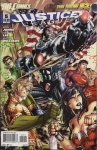 These are estimates of the sales on comic books by Diamond
U.S.
to comic specialty stores during January 2012.

For an overview and analysis of comic sales in January, see "Three Comics Over 100K."

For an analysis of the dollar trends in January, see "Comic Store Sales Surge in January."
For our estimates of actual sales by Diamond U.S. from comic specialty stores on graphic novels shipped during January, see "Top 300 Graphic Novels Actual--January 2012."
TOP 300 COMICS -- January 2012

Rank

Index

Title

Price

Pub

Est.Qty

1

106.20

JUSTICE LEAGUE #5

$3.99

DC

138,576

2

100.00

BATMAN #5

$2.99

DC

130,492

3

80.53

ACTION COMICS #5

$3.99

DC

105,088

4

76.13

DETECTIVE COMICS #5

$2.99

DC

99,342

5

75.01

GREEN LANTERN #5

$2.99

DC

97,878

6

58.87

BATMAN THE DARK KNIGHT #5

$2.99

DC

76,824

7

56.49

SUPERMAN #5

$2.99

DC

73,719

8

54.88

FLASH #5

$2.99

DC

71,611

9

50.20

BATMAN AND ROBIN #5 [*]

$2.99

DC

65,507

10

49.88

AQUAMAN #5

$2.99

DC

65,094

11

48.64

UNCANNY X-MEN #5

$3.99

MAR

63,477

12

48.41

UNCANNY X-MEN #4

$3.99

MAR

63,175

13

45.62

WOLVERINE AND X-MEN #4

$3.99

MAR

59,530

14

44.97

WOLVERINE #300

$4.99

MAR

58,681

15

44.89

AVENGERS X-SANCTION #2

$3.99

MAR

58,578

16

44.16

WONDER WOMAN #5

$2.99

DC

57,626

17

43.82

AMAZING SPIDER-MAN #677

$3.99

MAR

57,186

18

42.00

AVENGERS #21

$3.99

MAR

54,803

19

41.85

TEEN TITANS #5

$2.99

DC

54,606

20

41.57

AMAZING SPIDER-MAN #678

$3.99

MAR

54,252

21

40.93

SCARLET SPIDER #1

$3.99

MAR

53,410

22

40.55

NEW AVENGERS #20

$3.99

MAR

52,910

23

40.13

AVENGING SPIDER-MAN #3

$3.99

MAR

52,371

24

40.08

GREEN LANTERN NEW GUARDIANS #5

$2.99

DC

52,305

25

39.79

BATWOMAN #5

$2.99

DC

51,924

26

39.33

BATGIRL #5 [*]

$2.99

DC

51,327

27

39.12

UNCANNY X-FORCE #20

$3.99

MAR

51,054

28

38.65

NIGHTWING #5 [*]

$2.99

DC

50,436

29

38.62

UNCANNY X-FORCE #19.1

$2.99

MAR

50,399

30

38.19

ULTIMATE COMICS SPIDER-MAN #6

$3.99

MAR

49,840

31

37.98

DEADPOOL #49

$2.99

MAR

49,567

32

37.30

GREEN LANTERN CORPS #5 [*]

$2.99

DC

48,679

33

35.98

CAPTAIN AMERICA #7

$3.99

MAR

46,954

34

35.44

AVENGERS ANNUAL #1

$4.99

MAR

46,244

35

35.16

INCREDIBLE HULK #4

$3.99

MAR

45,876

36

34.59

FANTASTIC FOUR #602

$2.99

MAR

45,131

37

33.57

SWAMP THING #5

$2.99

DC

43,806

38

33.33

DAREDEVIL #8

$2.99

MAR

43,494

39

32.65

FF #14

$2.99

MAR

42,609

40

32.41

RED LANTERNS #5 [*]

$2.99

DC

42,293

41

30.91

WOLVERINE AND X-MEN ALPHA AND OMEGA #1

$3.99

MAR

40,340

42

30.37

CATWOMAN #5 [*]

$2.99

DC

39,631

43

29.84

DEFENDERS #2

$3.99

MAR

38,935

44

29.67

X-MEN #23

$3.99

MAR

38,719

45

29.35

RED HOOD AND THE OUTLAWS #5 [*]

$2.99

DC

38,304

46

29.18

SECRET AVENGERS #21

$3.99

MAR

38,082

47

28.80

X-MEN LEGACY #261

$2.99

MAR

37,577

48

28.73

MIGHTY THOR #10

$3.99

MAR

37,487

49

28.58

SUPERGIRL #5 [*]

$2.99

DC

37,301

50

28.48

X-MEN LEGACY #260

$2.99

MAR

37,160

51

28.38

JUSTICE LEAGUE INTERNATIONAL #5 [*]

$2.99

DC

37,032

52

28.27

JUSTICE LEAGUE DARK #5 [*]

$2.99

DC

36,896

53

27.98

ANIMAL MAN #5 [*]

$2.99

DC

36,516

54

27.07

SECRET AVENGERS #21.1

$2.99

MAR

35,320

55

26.94

INVINCIBLE IRON MAN #512

$3.99

MAR

35,159

56

26.72

ULTIMATE COMICS ULTIMATES #6

$3.99

MAR

34,865

57

26.04

ULTIMATE COMICS X-MEN #6

$3.99

MAR

33,975

58

25.81

SUPERBOY #5 [*]

$2.99

DC

33,677

59

24.21

WALKING DEAD #93 (MR)

$2.99

IMA

31,596

60

23.86

ASTONISHING X-MEN #46

$3.99

MAR

31,134

61

23.28

CARNAGE USA #2

$3.99

MAR

30,378

62

23.17

GREEN ARROW #5 [*]

$2.99

DC

30,234

63

23.10

BTVS SEASON 9 FREEFALL #5

$2.99

DAR

30,146

64

22.57

SUICIDE SQUAD #5 [*]

$2.99

DC

29,453

65

22.31

STORMWATCH #5

$2.99

DC

29,112

66

22.02

VENOM #12

$2.99

MAR

28,728

67

21.86

BIRDS OF PREY #5 [*]

$2.99

DC

28,530

68

21.18

CAPTAIN AMERICA AND BUCKY #626

$2.99

MAR

27,632

69

20.46

FEAR ITSELF FEARLESS #6

$2.99

MAR

26,700

70

20.05

FEAR ITSELF FEARLESS #7

$2.99

MAR

26,167

71

19.70

X-FACTOR #230

$2.99

MAR

25,707

72

19.32

LORD OF THE JUNGLE #1 (MR)

$1.00

DE

25,212

73

18.76

ALL STAR WESTERN #5 [*]

$3.99

DC

24,485

74

18.31

NEW MUTANTS #36

$2.99

MAR

23,891

75

18.29

JOURNEY INTO MYSTERY #633

$2.99

MAR

23,869

76

18.29

HUNTRESS #4

$2.99

DC

23,863

77

17.92

SUPERIOR #7 (MR)

$4.99

MAR

23,387

78

17.81

DEMON KNIGHTS #5 [*]

$2.99

DC

23,241

79

17.67

LEGION OF SUPER HEROES #5 [*]

$2.99

DC

23,062

80

17.56

PUNISHER #7

$2.99

MAR

22,908

81

17.53

MOON KNIGHT #9

$3.99

MAR

22,872

82

17.41

HULK #47

$2.99

MAR

22,720

83

16.75

AVENGERS ACADEMY #24

$2.99

MAR

21,857

84

16.58

BATWING #5 [*]

$2.99

DC

21,632

85

16.53

SAVAGE HAWKMAN #5 [*]

$2.99

DC

21,570

86

16.46

DEATHSTROKE #5 [*]

$2.99

DC

21,485

87

15.89

X-23 #20

$2.99

MAR

20,730

88

15.88

BATMAN ODYSSEY VOL 2 #4

$3.99

DC

20,722

89

15.77

THUNDERBOLTS #168

$2.99

MAR

20,585

90

15.72

FATALE #1 (MR) [*]

$3.50

IMA

20,515

91

15.68

FRANKENSTEIN AGENT OF SHADE #5 [*]

$2.99

DC

20,463

92

15.57

THUNDERBOLTS #169

$2.99

MAR

20,316

93

15.21

DC UNIVERSE PRESENTS #5 [*]

$2.99

DC

19,843

94

14.86

LEGION LOST #5 [*]

$2.99

DC

19,394

95

14.80

BRILLIANT #2 (MR)

$3.95

MAR

19,319

96

14.71

FURY OF FIRESTORM THE NUCLEAR MEN #5 [*]

$2.99

DC

19,196

97

14.69

DANGER GIRL REVOLVER #1

$3.99

IDW

19,169

98

14.47

GENERATION HOPE #15

$2.99

MAR

18,878

99

14.41

MAGNETO NOT A HERO #3

$2.99

MAR

18,804

100

14.39

TEENAGE MUTANT NINJA TURTLES ONGOING #6

$3.99

IDW

18,773

101

14.31

RESURRECTION MAN #5 [*]

$2.99

DC

18,675

102

14.14

PENGUIN PAIN AND PREJUDICE #4

$2.99

DC

18,452

103

14.11

ALPHA FLIGHT #8

$2.99

MAR

18,408

104

13.87

BATTLE SCARS #3

$2.99

MAR

18,102

105

13.84

GRIFTER #5 [*]

$2.99

DC

18,054

106

13.64

ANGEL & FAITH #6

$2.99

DAR

17,800

107

13.48

FABLES #113 (MR)

$2.99

DC

17,588

108

13.42

SHADE #4

$2.99

DC

17,512

109

13.23

PUNISHERMAX #21 (MR)

$3.99

MAR

17,267

110

13.22

DAKEN DARK WOLVERINE #19

$2.99

MAR

17,253

111

13.13

BLUE BEETLE #5 [*]

$2.99

DC

17,138

112

12.98

I VAMPIRE #5 [*]

$2.99

DC

16,934

113

12.82

DAKEN DARK WOLVERINE #20

$2.99

MAR

16,728

114

12.80

BOYS #62 (MR)

$3.99

DE

16,700

115

12.71

LEGION SECRET ORIGIN #4

$2.99

DC

16,585

116

12.40

STAR WARS KNIGHTS OF THE OLD REPUBLIC WAR #1

$3.50

DAR

16,179

117

12.20

VOODOO #5 [*]

$2.99

DC

15,915

118

12.19

ARCHIE #629 (ARCHIE MEETS KISS PT 3 )

$2.99

ARC

15,906

119

12.09

HAWK AND DOVE #5 [*]

$2.99

DC

15,775

120

12.03

CAPTAIN ATOM #5 [*]

$2.99

DC

15,693

121

11.76

TRANSFORMERS MORE THAN MEETS EYE ONGOING #1

$3.99

IDW

15,340

122

11.50

STAR TREK LEGION OF SUPERHEROES #4

$3.99

IDW

15,004

123

11.36

DARK TOWER GUNSLINGER WAY STATION #2

$3.99

MAR

14,827

124

11.22

GHOST RIDER #8

$2.99

MAR

14,637

125

11.20

OMAC #5 [*]

$2.99

DC

14,618

126

10.96

INVINCIBLE #87

$2.99

IMA

14,299

127

10.91

AMERICAN VAMPIRE #23 (MR)

$2.99

DC

14,240

128

10.90

BLACK PANTHER MOST DANGEROUS MAN ALIVE #528

$2.99

MAR

14,221

129

10.90

X-CLUB #2

$2.99

MAR

14,219

130

10.58

MISTER TERRIFIC #5 [*]

$2.99

DC

13,802

131

10.41

RAY #2

$2.99

DC

13,587

132

10.38

STATIC SHOCK #5 [*]

$2.99

DC

13,550

133

10.04

GAME OF THRONES #5 (MR)

$3.99

DE

13,096

134

9.93

AVENGERS 1959 #5

$2.99

MAR

12,955

135

9.85

VILLAINS FOR HIRE #2

$2.99

MAR

12,851

136

9.80

SPAWN #215

$2.99

IMA

12,794

137

9.73

MEN OF WAR #5 [*]

$3.99

DC

12,699

138

9.71

STAR WARS AGENT O/T EMPIRE IRON ECLIPSE #2

$3.50

DAR

12,675

139

9.69

DEADPOOL MAX 2 #4 (MR)

$3.99

MAR

12,639

140

9.64

DC UNIVERSE ONLINE LEGENDS #21

$2.99

DC

12,578

141

9.54

DC UNIVERSE ONLINE LEGENDS #22

$2.99

DC

12,455

142

9.42

STAND NIGHT HAS COME #6

$3.99

MAR

12,298

143

9.40

BLACKHAWKS #5 [*]

$2.99

DC

12,267

144

9.38

TRANSFORMERS ROBOTS IN DISGUISE ONGOING #1

$3.99

IDW

12,234

145

9.33

STAR TREK ONGOING #5

$3.99

IDW

12,178

146

9.33

KIRBY GENESIS #5

$3.99

DE

12,174

147

9.21

CHEW #23

$2.99

IMA

12,012

148

9.20

LOBSTER JOHNSON THE BURNING HAND #1

$3.50

DAR

12,004

149

9.19

PEANUTS #1

$3.99

BOO

11,994

150

8.69

KING CONAN PHOENIX ON THE SWORD #1

$3.50

DAR

11,338

151

8.67

GFT ALICE IN WONDERLAND #1 (MR)

$2.99

ZEN

11,317

152

8.42

WARLORD OF MARS DEJAH THORIS #9 (MR)

$3.99

DE

10,989

153

8.37

AVENGERS SOLO #4

$3.99

MAR

10,922

154

8.26

ARTIFACTS #13

$3.99

IMA

10,780

155

8.26

WITCHBLADE #151

$2.99

IMA

10,775

156

8.25

GARTH ENNIS JENNIFER BLOOD #8 (MR)

$3.99

DE

10,767

157

8.22

CONAN ROAD OF KINGS #12

$3.50

DAR

10,727

158

8.14

THOR DEVIANTS SAGA #3

$3.99

MAR

10,623

159

7.93

THUNDER AGENTS VOL 2 #3

$2.99

DC

10,354

160

7.85

BPRD HELL ON EARTH RUSSIA #5

$3.50

DAR

10,244

161

7.80

VAMPIRELLA #13

$3.99

DE

10,176

162

7.58

UNWRITTEN #33 (MR)

$2.99

DC

9,888

163

7.49

INFESTATION 2 #1

$3.99

IDW

9,771

164

7.43

GI JOE VOL 2 ONGOING #9

$3.99

IDW

9,701

165

7.38

THE LONE RANGER #1

$3.99

DE

9,635

166

7.33

MORNING GLORIES #15 (MR)

$2.99

IMA

9,565

167

7.27

UNWRITTEN #33.5 (MR)

$2.99

DC

9,483

168

7.18

HELLBLAZER #287 (MR)

$2.99

DC

9,368

169

7.10

TRUE BLOOD FRENCH QUARTER #5

$3.99

IDW

9,260

170

6.99

ULTIMATE COMICS FALLOUT #4

$3.99

MAR

9,125

171

6.89

VOLTRON #2

$3.99

DE

8,990

172

6.88

WITCHBLADE #152

$2.99

IMA

8,979

173

6.84

GI JOE A REAL AMERICAN HERO #174

$3.99

IDW

8,926

174

6.80

GHOSTBUSTERS ONGOING #5

$3.99

IDW

8,878

175

6.74

GOON #37

$3.50

DAR

8,789

176

6.67

VAMPIRELLA VS DRACULA #1

$3.99

DE

8,710

177

6.65

GODZILLA KINGDOM OF MONSTERS #11

$3.99

IDW

8,676

178

6.60

FLASH GORDON ZEITGEIST #2

$3.99

DE

8,611

179

6.52

IZOMBIE #21 (MR)

$2.99

DC

8,514

180

6.42

HELLRAISER #9 (MR)

$3.99

BOO

8,382

181

6.38

SNAKE EYES ONGOING (IDW) #9

$3.99

IDW

8,328

182

6.32

COBRA ONGOING #9

$3.99

IDW

8,249

183

6.23

SWEET TOOTH #29 (MR)

$2.99

DC

8,128

184

6.17

SEVERED #6 (MR)

$2.99

IMA

8,047

185

6.16

GREEN HORNET #21

$3.99

DE

8,043

186

6.14

WHISPERS #1

$2.99

IMA

8,013

187

6.14

GODZILLA LEGENDS #3

$3.99

IDW

8,012

188

6.07

IRREDEEMABLE #33

$3.99

BOO

7,923

189

5.99

TINY TITANS #48

$2.99

DC

7,819

190

5.98

FERALS #1 (MR)

$3.99

AVA

7,802

191

5.86

THE STRAIN #2

$3.50

DAR

7,650

192

5.83

CROSSED PSYCHOPATH #7 (MR)

$3.99

AVA

7,606

193

5.82

MY GREATEST ADVENTURE #4

$3.99

DC

7,591

194

5.78

WARLORD OF MARS FALL OF BARSOOM #5

$3.99

DE

7,544

195

5.78

MEGA MAN #9

$2.99

ARC

7,540

196

5.59

YOUNG JUSTICE #12

$2.99

DC

7,288

197

5.59

STRANGE TALENT OF LUTHER STRODE #4 (MR)

$2.99

IMA

7,288

198

5.54

COBRA ANNUAL 2012 ORIGIN OF COBRA COMMANDER #1

$7.99

IDW

7,235

199

5.49

RED SONJA #62

$3.99

DE

7,160

200

5.48

DOCTOR WHO ONGOING VOL 2 #13

$3.99

IDW

7,156

201

5.48

HALO FALL OF REACH INVASION #1

$3.99

MAR

7,155

202

5.47

LADY DEATH (ONGOING) #13 (MR)

$3.99

AVA

7,132

203

5.32

STEED AND MRS PEEL #1

$3.99

BOO

6,937

204

5.26

LEGION OF MONSTERS #4

$3.99

MAR

6,865

205

5.26

TAROT WITCH OF THE BLACK ROSE #72 (MR)

$2.95

BRO

6,859

206

5.23

ALL NEW BATMAN THE BRAVE AND THE BOLD #15

$2.99

DC

6,827

207

5.19

MASS EFFECT INVASION #4

$3.50

DAR

6,772

208

5.15

SONIC UNIVERSE #36

$2.99

ARC

6,725

209

5.12

KIRBY GENESIS DRAGONSBANE #1

$3.99

DE

6,675

210

5.11

NORTHLANDERS #47 (MR)

$2.99

DC

6,665

211

5.09

SIMPSONS COMICS #186

$2.99

BON

6,638

212

5.07

HACK SLASH #12 (MR)

$3.50

IMA

6,621

213

4.95

INCORRUPTIBLE #26

$3.99

BOO

6,464

214

4.86

DARK SHADOWS #3

$3.99

DE

6,337

215

4.79

SUPERNATURAL #4

$2.99

DC

6,251

216

4.74

GFT MYTHS & LEGENDS #11 (MR)

$2.99

ZEN

6,190

217

4.67

JUSTICE LEAGUE #5 COMBO PACK

$4.99

DC

6,094

218

4.66

SCALPED #55 (MR)

$2.99

DC

6,083

219

4.62

PROPHET #21

$2.99

IMA

6,029

220

4.61

QUEEN SONJA #26

$3.99

DE

6,016

221

4.59

ARTIFACTS ORIGINS ONE SHOT

$3.99

IMA

5,988

222

4.47

FATHOM BLUE DESCENT #4

$2.99

ASP

5,827

223

4.45

ORCHID #4

$3.50

DAR

5,803

224

4.38

PLANET OF THE APES #10

$3.99

BOO

5,710

225

4.25

JUSTICE LEAGUE #1

$3.99

DC

5,541

226

4.25

CREEPY COMICS #7

$4.99

DAR

5,540

227

4.23

SUPER DINOSAUR #7

$2.99

IMA

5,518

228

4.08

DARKNESS #97

$2.99

IMA

5,328

229

4.07

DARKNESS #98 (MR)

$2.99

IMA

5,316

230

4.06

LAST PHANTOM #11

$3.99

DE

5,302

231

4.00

GREEN HORNET ANNUAL #2

$4.99

DE

5,226

232

3.99

CALIGULA #6 (MR)

$3.99

AVA

5,212

233

3.98

BART SIMPSON COMICS #67

$2.99

BON

5,192

234

3.95

SIX GUNS #4

$2.99

MAR

5,159

235

3.83

JOHN CARTER A PRINCESS OF MARS #5

$2.99

MAR

4,998

236

3.79

RED SONJA RAVEN

$4.99

DE

4,942

237

3.77

BETRAYAL O/T PLANET O/T APES #3

$3.99

BOO

4,926

238

3.77

VALEN OUTCAST #2

$3.99

BOO

4,926

239

3.70

JOHN CARTER OF MARS WORLD OF MARS #4

$3.99

MAR

4,829

240

3.67

USAGI YOJIMBO #143

$3.50

DAR

4,788

241

3.63

RACHEL RISING #4

$3.99

ABS

4,737

242

3.62

SOULFIRE VOL 3 #6

$3.50

ASP

4,723

243

3.58

PC CAST HOUSE OF NIGHT #3

$2.99

DAR

4,677

244

3.57

30 DAYS OF NIGHT ONGOING #4

$3.99

IDW

4,662

245

3.57

BATMAN #5 COMBO PACK

$3.99

DC

4,653

246

3.56

UNCHARTED #3

$2.99

DC

4,643

247

3.55

SPIDER-MAN #22

$2.99

MAR

4,635

248

3.53

ELRIC THE BALANCE LOST #7

$3.99

BOO

4,603

249

3.47

SCOOBY DOO WHERE ARE YOU #17

$2.99

DC

4,533

250

3.47

KULL THE CAT & THE SKULL #4

$3.50

DAR

4,530

251

3.35

DIABLO #2

$2.99

DC

4,366

252

3.32

ROBOCOP ROAD TRIP #1 (MR)

$3.99

DE

4,334

253

3.31

NANCY IN HELL ON EARTH #1 (MR)

$3.99

IMA

4,323

254

3.27

ACTION COMICS #5 COMBO PACK

$4.99

DC

4,262

255

3.27

COLD WAR #4

$3.99

IDW

4,262

256

3.27

DARK MATTER #1

$3.50

DAR

4,261

257

3.25

SALEMS DAUGHTER HAUNTING #4 (MR)

$2.99

ZEN

4,241

258

3.20

RACHEL RISING #5

$3.99

ABS

4,180

259

3.15

HP LOVECRAFT THE DUNWICH HORROR #4

$3.99

IDW

4,111

260

3.14

AVENGELYNE #6

$2.99

IMA

4,099

261

3.12

MEMORIAL #2

$3.99