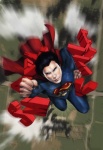 DC Entertainment has announced plans to continue the Smallville TV series, which ran for 10 years on network television, with a Smallville Season 11 comic that will be written by Bryan Q. Miller, who was on the writing staff of the TV series. Smallville Season 11 will be a "digital first" comic. It will debut digitally on April 13th with new digital chapters released weekly thereafter. These online chapters will be collected and offered in a print periodical along with an episode guide to the TV series with the first print issue due for release on May 16th.
The new Smallville Season 11 comic will pick up right where the show left off with Clark officially established as Superman, and it will include other popular fan-favorite characters from the series including Oliver Queen/Green Arrow, Chloe Sullivan-Queen, Lois Lane, Lex Luthor, and General Lane.
The art team on the new Smallville Season 11 comic includes cover artist (for the print comic) Gary Frank, digital cover artist Cat Staggs, and Pere Perez, who will supply the interior art, which will be the same both formats.