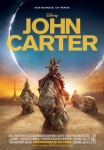 Early tracking information on Disney's $250 million+ production of John Carter has some Hollywood analysts predicting that the film could be "the biggest write-off of all time." ICv2 has noted that opening such an expensive film in the first quarter was definitely a gamble, and the fact that the eagerly-anticipated Hunger Games adaptation is due in theaters just two weeks after John Carter debuts on March 9th doesn't give Andrew Stanton's adaptation of Edgar Rice Burroughs' Barsoom novels much breathing room.
According to
Deadline Hollywood
, only 27% of those surveyed were "definitely interested" in seeing the film, with just 3% saying it was their "first choice" of upcoming films, a very low "wannasee" factor. Women of all ages appear to be very uninterested in the film, and, in spite of a Super Bowl ad (see "
John Carter Super Bowl Ad
"), just over half of all people surveyed (53%) were even aware of the movie at all.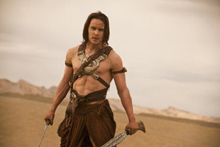 This is not all unexpected, this type of fantasy can be a hard sell, especially to women and Disney still has almost a month to generate more interest in the film. Also shortening the title of the film from
John Carter of Mars
to just
John Carter
certainly doesn't help define the film for potential moviegoers.
Deadline reports that Disney remains committed to pushing the movie with a major media blitz that is launching on Sunday. "We're not running away from the movie. Our job is to sell it," one studio exec told Deadline, while also pointing out that director Andrew Stanton has had major hits with Finding Nemo and Wall-E.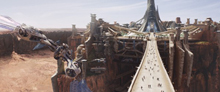 If the movie does flop, what does it mean for the comic books and other merchandise that the film has stimulated (see "
It's Getting Crowded on the Red Planet
" for a look at
Barsoom
-based comics from Dynamite and Marvel)? The answer is, probably not much. There is such a difference in scale between the size of movie audiences and those for comics and graphic novels that even if in some sort of worse case scenario
John Carter
does a total belly flop at the box office, it will still be seen by what is a massive audience in comic book terms and it will undoubtedly interest some of those viewers in the original source material and the many comic adaptations of that material over the years.