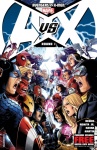 Marvel is mounting a massive marketing campaign behind its Avengers vs. X-Men title, Marvel Senior Vice President David Gabriel told ICv2. "This is the biggest marketing investment that we've ever put into a series or an event," he said. "You'll see that online, through social media, and there's going to be a radio and television component as well."
Gabriel did not have details on the TV component, but did say that Marvel sister companies ABC and Disney XD were among the venues being considered.
The campaign will be long-lived, and support the entire run of the series. "They're actually treating every issue as an event, because there's a different fight going on in every issue, and I'm told that they are pushing every single issue through all twelve issues," Gabriel said. "The story itself has three acts, and each of those acts has a natural marketing hook to it, so they're pushing those as well."
"We're making a concentrated effort like never before to get whatever we can out there," Gabriel said of the campaign.