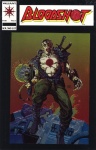 Sony Pictures has acquired the motion picture rights to Valiant property Bloodshot, according to
Deadline
. A spec script by Jeff Wadlow (
Cry Wolf
) was acquired for a mid-six figure advance, according to the report.
Bloodshot was one of the bestselling titles in the Valiant universe back in the early 90s, including the famous #1 "chromium" cover issue, which sold hundreds of thousands of copies.
The hero is a mob killer who's betrayed by his crime family. He gets his powers from an experimental procedure that puts microscopic computers into his brain and body.
Although mentioned as a key character in the Valiant revival (see "
Valiant Returns
"), there is no current
Bloodshot
comic; Valiant's first book in its new incarnation is
X-O Manowar.
So now we know why Valiant invented a new drink, the "Bloodshot," and served them in Bloodshot-themed shot glasses at their party at ComicsPro!