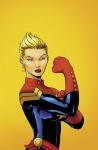 At WonderCon Marvel made the surprise announcement that Carol Danvers, who became the superhero Ms. Marvel after gaining powers due to the explosion of a Kree device in a battle between Captain Marvel and Yon-Rogg, would be the new Captain Marvel in an ongoing series written by Kelly Sue DeConnick and drawn by Dexter Soy that debuts in July.
Marvel has teased the July return of a
Captain Marvel
series in a recent poster (see "
Captain Marvel Returning in July?
"), as well as in Alan Davis' cover for
Secret Avengers
#27, though the figure on the
Secret Avengers
cover is clearly a male Captain Marvel. Could he be in for a difficult time in the coming clash between Avengers and X-Men?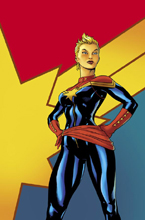 As for Ms. Marvel, she had her own series in the late 1970s, though lately she has been associated most closely with the Avengers and the X-Men, which puts her at the very heart of the latest major conflict in the Marvel universe. Ms. Marvel was ranked 29th in the
Comic Buyer's Guide
poll of the "100 Sexiest Women in Comics."