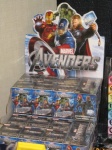 The countertop display unit for WizKids' Avengers Movie HeroClix will actually contain two different skus, a single-figure booster pack and a team pack that includes three related figures. This marks the first time that WizKids has produced two skus for its countertop displays. The two skus included in the countertop display unit are shrinkwrapped into four bricks, but retailers can break up the bricks and sell them by the individual boosters and Team Packs. The "Team Packs" all contain three figures that are thematically linked. There are S.H.I.E.L.D. Team Packs and Hydra Team Packs, and they are playable right out of the box.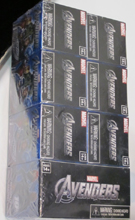 Also playable right out of the box is the
Avengers Movie HeroClix Starter Set
, which contains six figures, two maps, rulebook, dice, and a reference card. All the members of the Avengers team including Captain America, Thor, Iron Man, and Black Widow will be part of the 40-figure
Avengers Movie HeroClix
set along with villains like Red Skull and Loki (see "
Avengers Movie HeroClix
").