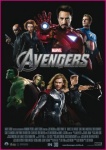 Joss Whedon's The Avengers posted the 9th best overseas opening of all time earning an estimated $178.4 million as it swept into first place in all of the markets in which it was released. The first Marvel Studios' film distributed by Disney, The Avengers rolled up its massive tally in spite of the fact that it didn't open in three major overseas markets, Russia, China, and Japan.

Here at home the remarkable ensemble comedy Think Like a Man, an adaptation of comedian Steve Harvey's advice tome, Act Like a Lady, Think Like a Man, dropped just 48% and still easily claimed the box office crown in a weak session with an estimated $18 million, which was more than enough to best a quartet of debuting genre films.
Weekend Box Office (Studio Estimates): April 27 - 29, 2012

Film

Weekend Gross

Screens

Avg./

Screen

Total Gross

Wk#

1

Think Like a Man

$18,000,000

2,015

$8,933

$60,868,000

2

2

The Pirates! Band of Misfits

$11,400,000

3,358

$3,395

$11,400,000

1

3

The Lucky One

$11,325,000

3,175

$3,567

$39,927,000

2

4

The Hunger Games

$11,250,000

3,572

$3,149

$372,455,000

6

5

The Five-Year Engagement

$11,157,000

2,936

$3,800

$11,157,000

1

6

Safe

$7,720,000

2,266

$3,407

$7,720,000

1

7

The Raven

$7,250,000

2,203

$3,291

$7,250,000

1

8

Chimpanzee

$5,460,000

1,567

$3,484

$19,153,000

2

9

The Three Stooges

$5,400,000

3,105

$1,739

$37,141,000

3

10

The Cabin in the Woods

$4,500,000

2,639

$1,705

$34,664,000

3
The Avengers set new debut weekend records in Mexico, Brazil, Taiwan, the Phillipines, Hong Kong and seven smaller markets. It earned $24.7 million in the U.K., where it posted the 16th best all-time opening (but the best debut for a superhero movie ever). Across 12 territories it basically opened twice as big as Iron Man 2. While the 9th best all time overseas opening may not sound all that great, Whedon's film was only on about 70% of its likely overseas screen total.
The Avengers juggernaut will debut here next weekend and put an end to Think Like a Man's box office reign, but Sony's $12 million comedy has consistently over-performed. Its 48% first to second weekend drop compares very favorably with other comedies targeting African-American audiences like Jumping the Broom, which dropped 55% and Tyler Perry's Good Deeds, which slipped 54%.
In second place (though estimates for spots 2 through 5 were so close that their order of finish could well change when final numbers come out tomorrow afternoon) was Aardman Animation's The Pirates! Band of Misfits, a new stop-motion animated epic from the studio that brought you Wallace & Gromit. Pirates earned an estimated $11.4 million as parents with kids made up 76% of the audience. A bit strangely for a pirate movie, 54% of the audience, which gave the film an OK "B" CinemaScore, was female.
The Nicholas Sparks romance, The Lucky One, was a very competitive third with an estimated $11.3 million followed closely by The Hunger Games, which also earned an estimated $11.3 million during its sixth weekend in theaters. The initial Hunger Games movie has now pulled slightly ahead of the highest-grossing Harry Potter film in domestic box office (though it still trails far behind in the worldwide total). While its overseas numbers can't compare with Harry's, The Hunger Games has now earned $601 million worldwide.
The Judd Apatow-produced comedy The Five Year Engagement debuted disappointingly in fifth place with an estimated $11.2 million. The $30 million romcom starring Jason Segel and Emily Blunt could only manage a weak "B-" CinemaScore from an audience that was 64% female.
Females predominated at all five of the top films this week, but males were in the majority for the Jason Statham action thriller Safe, which unfortunately debuted in sixth place with a very weak $7.7 million. Audiences gave the film a "B+," which does provide some hope, at least for a solid performance on DVD.
Close behind was the horror film The Raven, which stars John Cusack. The $26 million production earned an estimated $7.25 million, and was given an OK "B" CinemaScore by opening weekend audiences.
Disney's nature documentary Chimpanzee dropped 48.8% and landed in eighth place, followed by the Farrelly Bros.' The Three Stooges in ninth and the Joss Whedon-produced meta-horror film The Cabin in the Woods in 10th. Overall the box office total of the top 12 films was down 31% from the same weekend last year when Fast Five debuted with over $78 million.