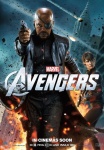 The record-setting performance of Joss Whedon's The Avengers is creating problems for Warner Bros.' Dark Shadows, which is slated to open this weekend. Seeing the success that the Disney-distributed Avengers film had in its first weekend, IMAX exhibitors are clamoring to keep the film on their screens longer than was originally planned.
In what the
Wall St. Journal
termed "an unusual move"
The Avengers
will stay on more IMAX screens than was originally planned, and will share some screens with the Tim Burton-helmed
Dark Shadows
with staggered showings of the two films. According to the
WSJ
, the two movies are likely to stagger showtimes at some 275 IMAX theaters until
Men in Black 3
debuts on May 25th. The original plan was to have
The Avengers
cut back to 75 IMAX screens this coming weekend as
Dark Shadows
opened at about 225 IMAX locations that had been showing
The Avengers.
For Disney this IMAX maneuver must be especially sweet since earlier this year IMAX booted Disney's John Carter off its screens after two weeks instead of the originally scheduled 3 in a move that definitely helped The Hunger Games, which took over the John Carter slots.