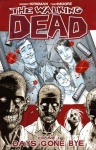 Graphic novels may have been selling better in comic stores than the recent year over year numbers indicate, due to a quirk in how numbers are reported. Diamond reported graphic novel sales down 5.7% in March (see "
Comics Slip in March
"), and a 12.6% gain in April (see "
Comic Sales Back on Track in April
"). Those percentage changes are based on the wholesale value of Diamond's shipments to comic stores for those months.
But the retail value of the Top 300 graphic novels, calculated based on our estimates of the quantities sold in those two months (see, for example, "
Top 300 Graphic Novels Actual--April 2012
") tells a different story, with graphic novel sales up 24.4% in March and 27.0% in April. That's around a 30% difference in the March rate of change, and over a 14% difference in April.
The big differences between the wholesale and retail rates of change in recent months appear to be caused by big increases in the number of graphic novels liquidated through Diamond in March and April. So retail dollars were up, while wholesale dollars lagged.
While there are undoubtedly some comic stores that use the deep discounts on liquidation titles to lower the retail price of graphic novels sold in their stores, there are also some stores that sell the graphic novels they buy at deep discounts at full retail, using the opportunity to fill holes in their inventory of full price products. So the true situation is probably somewhere in between that indicated by the two sets of numbers.
The bottom line? Graphic novel sales in comic stores are even better than the 9.5% year over year increase they showed for the first four months of 2012. That's a bullish sign in a bullish year.