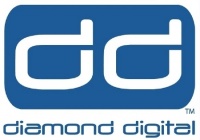 Diamond Comic Distributors has confirmed that three employees in its digital and Web departments have been separated from the company. Director of Diamond Digital Dave Bowen has left the company as of May 21st, and his duties have been primarily assigned to long-time Manager of Retail Technology Chreyl Sleboda, with other responsibilities handed off to Customer Service, Purchasing, and Marketing departments.
Diamond VP Sales and Marketing Roger Fletcher stressed that the Diamond was still engaged in its digital initiatives. "Together with our colleagues at iVerse Media, we remain committed to Diamond Digital and look forward to empowering comic book specialty retailers to sell digital content in new and innovative ways," he said.
Two Web developers, Jeff Dillon, who was Web Development Manager, and programmer Lev Schneider, "...were let go due to a restructuring of our Web Development Team," a Diamond spokesperson told ICv2. "We are currently hiring Web programmers with different skill sets."