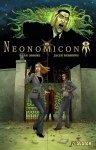 Two copies of Alan Moore and Jacen Burrows' Neonomicon have been pulled from the library shelves of the Anderson Road branch of the Greenville County library system after a copy of the graphic novel was checked out by the 14-year-old Jennifer Ganske, whose mother complained after looking at the book.
According to local TV station
WSPA
, the copy of
Neonomicon
that the girl checked out was kept in the library's adult section. Rules at the Greenville library permit kids over thirteen, who have parental permission, to check out books from the adult section with a "juvenile adult" card.
Gaske's mother, who complained that there was no warning label of explicit content on the copy of Neonomicon that her daughter checked out, has filed an official challenge against the book, and the library system has pulled its two copies of the book from the shelves while a committee reviews its content.