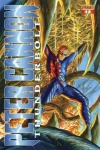 Rights to publish comics based on Charlton (and DC) character Peter Cannon: Thunderbolt have been acquired by Dynamite, which will release the first issue of the eponymous title in September. It will be written by Steve Darnall and Alex Ross, with art by Jonathan Lau and covers by Ross, Jae Lee, John Cassaday and Ardian Syaf.
The character was created for Dick Giordano's superhero line at Charlton in the mid-60s by Pete Morisi, who retained rights to the character. When Charlton sold its superhero rights to DC in the early 80s, rights to Peter Cannon: Thunderbolt were licensed to DC, which used the character in Crisis on Infinite Earths and other titles. Now Dynamite has obtained rights to the character from the Morisi family (Pete Morisi is deceased).
The first issue will be a special 48-pager, including the previously unpublished 1987 origin story by Morisi, for $3.99.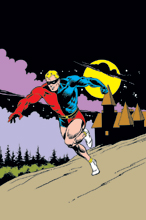 Peter Cannon: Thunderbolt
served as inspiration for
Watchmen
character Ozymandias, drawn by Dave Gibbons (who drew Thunderbolt in
DC Challenge
#5).
A spokesperson for the Morisi estate described how the character ended up at Dynamite. "Enter Nick Barrucci, President of Dynamite Entertainment, in 2008. By that time a few other publishers had shown some interest in Thunderbolt but it was Nick's passion for the revival of the character and track record regarding the revival of other titles such as The Lone Ranger and Zorro that caught my eye and ear. His staff of chosen artists breathed new life into these great characters; the stories read like screenplays and the art and production really drew me in. I got excited thinking of what my father's unpublished story might look like in print using their production methods and to see what Dynamite Entertainment might have in store for the future of Peter Cannon: Thunderbolt as well. Well it looks like that's exactly what's about to happen as Dynamite Entertainment launches a new Thunderbolt series."