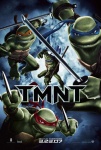 With the high profile box office failures of films like
John Carter
and
Battleship
, Hollywood studios are becoming extremely cautious. The latest example of Tinseltown austerity is Paramount's decision to suspend work on the Michael Bay-produced reboot of the
Teenage Mutant Ninja Turtles
franchise. Paramount has already postponed several blockbusters including G
.I. Joe Retribution
(see "
Paramount moves 'G.I. Joe: Retribution' to 2013
") and the Brad Pitt zombie epic
World War Z
that were scheduled to debut in 2012. Now it is stopping the production of the live action
Teenage Mutant Ninja Turtles
movie that was slated to debut in December of 2013.
The studio shut down the G.I. Joe film because it was dissatisfied at the way the film was looking (see "
'G.I. Joe' Needed Work
"), and it appears that the same dynamic is a work (albeit at an earlier stage of production, the
Joe
movie was postponed just weeks before it was to debut) with the
TMNT
film. Word is the
Turtles
movie is undergoing a major rewrite. According to
The Hollywood Reporter
, the studio is shutting down the production of the
TMNT
movie for at least 10 weeks, which will push the premiere of the movie well in 2014, though no date has been set yet.
The live-action
TMNT
film currently being produced by Michael (
Transformers
) Bay's Platinum Dunes production company has already been embroiled in controversy with fans objecting to changes the movie reportedly made in the
Turtles'
origin story (see "
Are the Turtles Ninjas from Outer Space
") and to the studio's announced plans to shorten the film's name (see "
'TMNT' Now Just 'Ninja Turtles'
"). The tremendous success of Joss Whedon's
The Avengers
has finally convinced most Hollywood execs that it is extremely important that those who are writing and directing geekcentric movies be extremely well-versed in the history and the attributes of the characters whose stories they are attempting to adapt to the big screen.